Post by Mighty Jack on Sept 20, 2014 3:17:10 GMT -5
I'm going to take a little detour to watch and speak about 2 other giant monster film débuts. First up…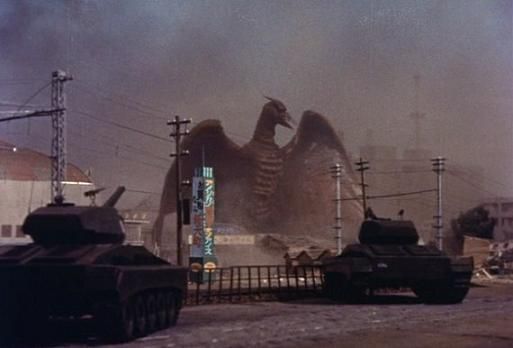 Rodan
1956
Directed by Ishirô Honda
IMDB Rating: 6.4 out of 10
Summary: Miners dig deep into the Earth and unleash a host of giant creatures onto the world.
With Gojira (1954) under his belt, Honda would go on to direct this Kaiju classic in 1956, Toho's first in color. It's an important feature for Godzillaphiles as the title monster will soon become a dangerous foe for the King.
It starts as a murder mystery and builds gradually from there.
I thought this was fantastic. It leans on the serious side of the genre, which I prefer, and it was genuinely scary. There is a scene where we see a couple sitting quietly at home, when all of a sudden a big bug comes crawling through the back door. Man, that freaked me out!
Later a mysterious flying object is zooming through the city, wreaking havoc. I like how they slowly reveal the monster in the title. At one point a jet plane is cut in half, by what we do not know. All we see afterward is a bloody helmet. That's darn chilling and it whets our appetite for the eventual reveal.
When we do see the beast(s) rampage in full, it is violent, unrelenting. The windstorm they create is brought to life effectively and the cameraman and FX department, along with Honda, all deserve a round of applause.
The picture does stumble at the end, owing to the same fault as
"Godzilla Raids Again"
-- It's simply not that exciting to sit through 10 minutes of 'military bombs a mountain' footage. The Rodan's do at least get a melodramatic finish, one that is strangely and poetically sad. And all told the films successes outweigh its faults.
Despite seeing some seems and strings, the creature costumes were well done. I loved the horns on Rodan that curve back from its eyes. The Japanese edit is preferred. Though the American cut is a tighter edit, it adds excessive narration and changes a few scenes, but even in this state the movie is effective.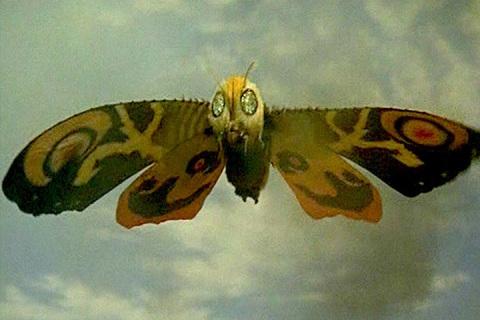 Mothra
1961
Directed by Ishirô Honda
IMDB Rating: 6.6/10
The other movie I wanted to include in the marathon was Mothra (Mosura in Japan), since she too will become a staple in the Godzilla franchise. Plus the film is of interested because screenwriter Shinichi Sekizawa will recycle many plot points from this one in his scripts for King Kong vs. Godzilla (1962) and Mothra vs. Godzilla (1964).
One constant in all 3 movies is a greedy entrepreneur who tries to cash in and exploit natures wonders. Though that idea didn't originate with Toho and can be seen in the original King Kong. Here a rather broadly rendered (oily, grinning) con man steals the twin fairies from Infant Island, cages them, and forces them to put on shows -- which raises the ire of our title character.
There are some good scenes throughout the picture. Infant Island looks great, more expansive and strange than what will be seen in Mothra vs. Godzilla, but overall this popular film doesn't wow me. For one, I saw it last. So even though it's the original and not a rehash… it feels like a rehash for me. Mothra is also more steeped in fantasy, and I preferred the horror elements found in Gojira and Rodan. As a character/monster, Mothra herself is not a personal favorite. While filmmakers will try to amp up interest by ramping up her powers in future films, she doesn't really do a lot other than flap her wings and get her ass kicked in various Godzilla flicks. (the exception being the next feature)
Also I found it repetitive and the scenes at the New Kirk Church overly sappy - and the while we have some good actors in comedian Frankie Sakai, Takashi Shimura and Hiroshi Koizumi as Mr. Chujo, a role he will reprise decades later – overall the film just doesn't do a lot for me. Now that doesn't mean I hate it, more 'lukewarm' to it. Most critics and fans have universally praised it.