Post by Mighty Jack on Sept 29, 2014 16:11:34 GMT -5
Godzilla walks off into the sunset…
Godzilla: Final Wars
2004
Directed by Ryûhei Kitamura
Written by Isao Kiriyama, Ryûhei Kitamura (screenplay), Wataru Mimura, Shogo Tomiyama (story)
IMDB Rating: 6.6 out of 10
Summary: Godzilla's 50th Anniversary sees the G-Man traveling the globe to fight his old foes as well as a new, mysterious creature named Monster X. All while a band of mutants and humans try to quell an alien invasion.
For all the hype, Final Wars wound up a bit of a disappointment. Why? Because they spent too much time farting around with that "Mutants vs. Aliens" malarkey. I got so sick and tired of watching those knobs posture, and pose and hop and flip and chew the scenery. Their scenes make the first hour a chore to sit through.
Story wise, they threw in the kitchen sink -- drawing from Godzilla history yes, but also stealing from Hollywood blockbusters like Star Wars, X-Men and The Matrix (there's even a Keanu Reeves look-a-like in the lead). When they FINALLY get to 'Godzilla vs. everyone' it was an hour and 10 into the flick.... and even then they kept jumping back to the mutants and that smug, hammy Xilian (the name of the aliens).
On the plus, the creature designs are sweet. Foes like Gigan look amazing, as did Monster X. The Kaiju throw downs are incredibly cool, both fast and furious and sometimes amusing. Oh if they'd only ditched the over stuffed twaddle: Streamlined the story, cut out the Xilian fanboy nonsense, the motorcycle fight and training exercise… Lose the mutant/Matrix mash-up, and had a different, more interesting first hour set-up… Gave me more Godzilla and fewer swaggering aliens and mutants, I might have liked this one better.
So is the glass half empty or half full?
It's a film that gets a mixed reaction from Die Hard fans. For me its sits along side "Godzilla vs. Gigan" on my rankings. It has its good stuff, and it has its bad (which is very very bad), and it sees the return of Minilla... So take that, as you will. (Actually his scenes were often a hoot.)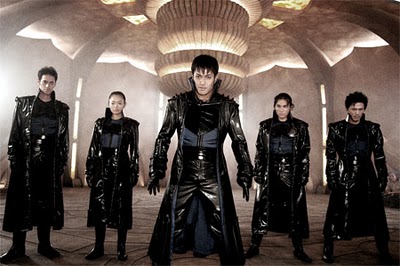 Every time this clown in the front pops on screen I think, "Oh just STFU!"
Box office wise, it fared poorly, from Wiki…
At roughly $19,500,000, Godzilla: Final Wars was the most expensive Toho-produced Godzilla film of all time.

Any hopes Toho had of Godzilla: Final Wars ending the series with a box office bang were stifled when the film opened in Japan on December 4, 2004. In its opening weekend, it came in third at the box office with $1,874,559. At the holiday season box office, it was beaten by Howl's Moving Castle and The Incredibles, both which also pursued the family market. It eventually grossed roughly $12,000,000 at the Japanese box office, with 1,000,000 admissions. Not only was it the least-attended film in the Millennium series, it was also the least attended film in 29 years since Terror of Mechagodzilla.
This is it then, Godzilla's final curtain call for Toho. 10 years after the release of this flick, Hollywood would again be handed the reigns. Only this time they treated the King with more respect and the picture was a hit. Will we ever see a Japanese based, man in a suit, miniature sets etc, Godzilla movie again. Or does Final Wars mark the end of an era?
Whatever the future brings, it was a hell of a ride. But it's not done yet; I still have one more feature to watch in this Godzilla-thon.