Post by siamesesin on Jan 30, 2009 14:36:33 GMT -5
I have a lot of stuff. *insert George Carlin monologue here*
It's everywhere. In my closet, in my brain. You get the picture. Blogs always seem like a good place to regurgitate, and lately it seems if I don't start releasing some of the said crap my brain will pop. So I'll start with my cubicle at work, which is almost a condensed soup version of some of the detritus that floats around in my brain.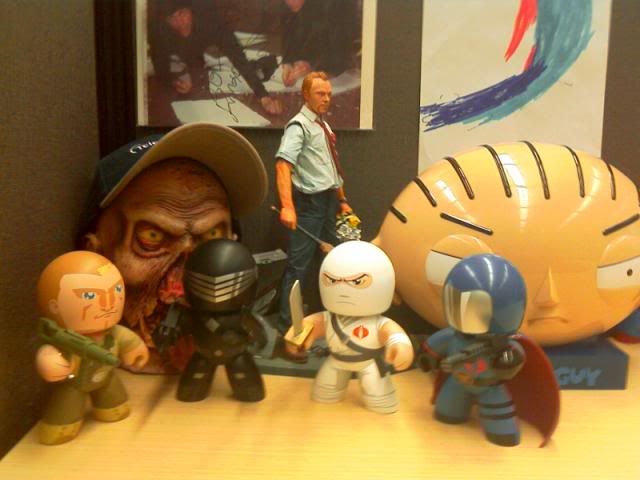 Ah, what could be better than a rubber zombie head named Paul? One that wears a Telescopes hat! He's my mascot and has dwelt on my desk since I started. GI Joes, Shaun "Smiley" Riley, my signed photo of Knoxville and Bam, and Stewie round the bunch out. The drawing above Stewie was done by my friend's daughter for me.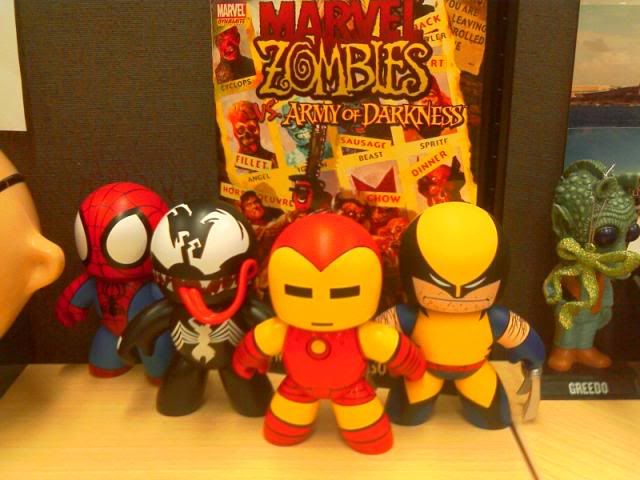 More Mighty Muggs, in this case my very incomplete Marvel collection. I like the Mighty Muggs because they're durable for Musical Cubicles and look a bit more modern than a standard action figure. I want more of the blasted things but there's talk of the line being cut, which bums me out. Oh, and the Greedo bobblehead. My Han-obsessed friend and I have a game by leaving Greedo in random places and ways, which is why he is currently sporting a glitter bow. The "Marvel Zombies Vs. Army of Darkness" book was a gift from my brother.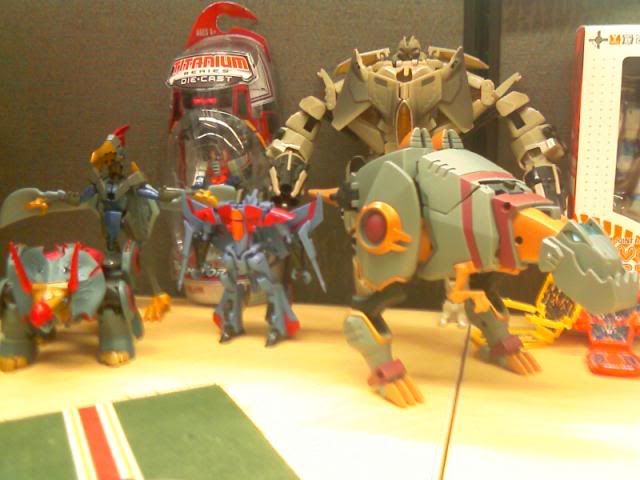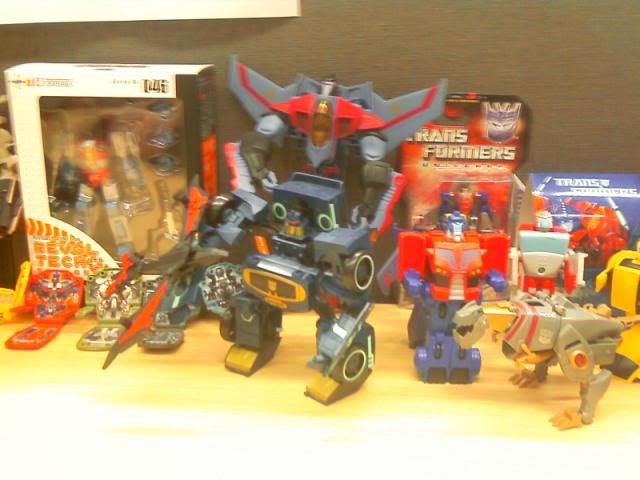 Yes, the Transformers. They take up about half my desk and sometimes it seems most of my existence. My cubicle collection is mostly limited to my newer or weirder pieces, although I am very fond of the Revoltech Starscream I got this Christmas. They're sometimes a pain to move, but if I'm on the phone and need to have something to fidget with there's nothing better. Now if only I can track down a damn Shockwave...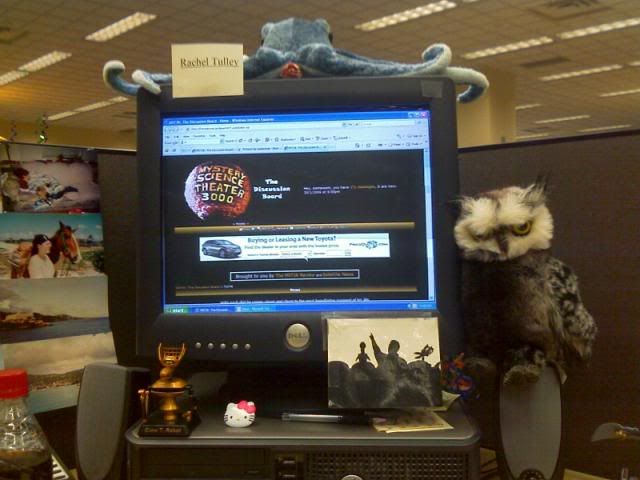 The bane of my existence and the lifeline that keeps me sane. No, not the board! ;D
Sometimes I want to chuck my PC out the window, but if I get stressed I just look at the silouettes taped to the lower left corner ( of course that's intentional) and I feel better. Archimedes the Owl and Henry the Octopus (on top of the monitor) are my concessions to girlhood.
I figure if I have to be stuck in a box, I'll make it my own.