Post by Captain Hygiene on May 30, 2010 17:20:30 GMT -5
Well, we're back from the storm chase, and it turned out to be a heck of a trip! We were gone for six full days, and the first four of those were successful chase days. In terms of a short trip like this (and one planned a couple months in advance, no less), we could hardly have been more successful. What we were looking for here was "supercell" thunderstorms, large and very organized storms that feature persistent rotation and can easily last for hours or more. These storms often feature persistent lowerings below the general cloud base (the "wall cloud"); these wall clouds often show significant rotation, and are where funnel clouds or tornadoes form in this type of storm. Because of their organization and rotation, supercells produce by far the most significant tornadoes, and even if they don't, their structure is often well-defined and breathtaking to see. I would consider a chase a success to see one of these storms from a good viewpoint, even without a tornado.
The first day (Sunday, May 23), we drove from Eastern Illinois out to Western Kansas. That's a heck of a drive, and on top of that, we went into active chase mode when we got out there. This was the worst of the four chase days, and even then I felt it was moderately successful at the time. For perspective, on last year's chase, we managed to intercept essentially the lone supercell storm worth seeing in the nation. On this chase, we saw at least three on the first day. The view we got wasn't as great for these storms, but [SPOILERS]we'd definitely have the chance to see more over the next few days[/SPOILERS].
The only picture of note I'll post here is this one; it's actually a 60 second exposure taken at night, when things were almost pitch black. Everything else I got pictures of was exceeded by pictures I took later in the trip.
*********************************************
The next day (Monday, May 24), we booked it north into northwestern Nebraska. This was the highest-risk day (according to the Storm Prediction Center) and I was a bit worried about what we'd see - there ended up being large tornadic storms over western Nebraska and the Dakotas, with the storms moving around 60 mph or so. You can see some incredible storms in these conditions, but it becomes a race trying to stay ahead of them on poor road networks. On this day, we got in position to let a couple of good storms go by us, and then got ahead of one that showed some great organization. We were able to stay enough ahead of this one to stop every once in a while for pictures. One of the incredible things on this day was the wind at the surface. Away from the storms, the general surface wind must have been around 45 mph or so, and all the dirt kicking up from the fields provided a great view of wind direction. When this storm got near us, within the space of a few seconds, the winds completely died around us, as the storm's updraft began to move over us, overpowering the surface winds. It was really eerie, and all of a sudden we could see the dust from the fields getting pulled upwards into the core of the storm. At that point, we were getting a bit too close and we took off to get further ahead of it. This storm never quite put out a full tornado from what we could see, but it persistently dropped funnel clouds near to the surface.
This picture isn't too impressive on its own, but it shows the persistent, rotating lowering that the most significant storm was putting out in its attempt to go tornadic.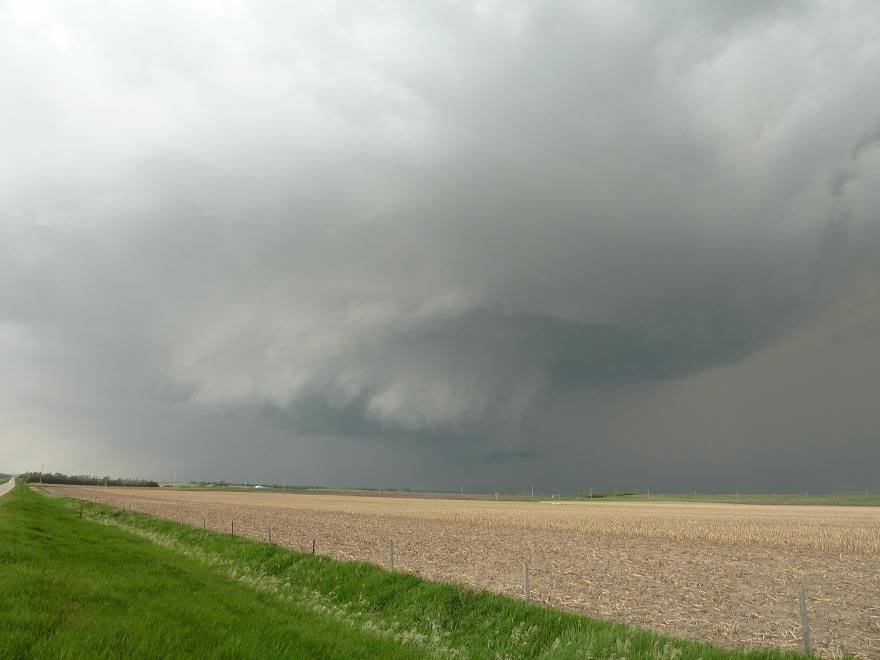 The same storm, now close enough to see the well-defined wall cloud. The smaller scale rotation that would try to develop into a tornado isn't too visible any more.
Same storm, a hair closer.
Same storm, a lot closer. The horizontal tail on the right side is continually produced by strong inflow into the cloud. As air is drawn into the storm, it cools and cloud droplets condense to form this persistent tail.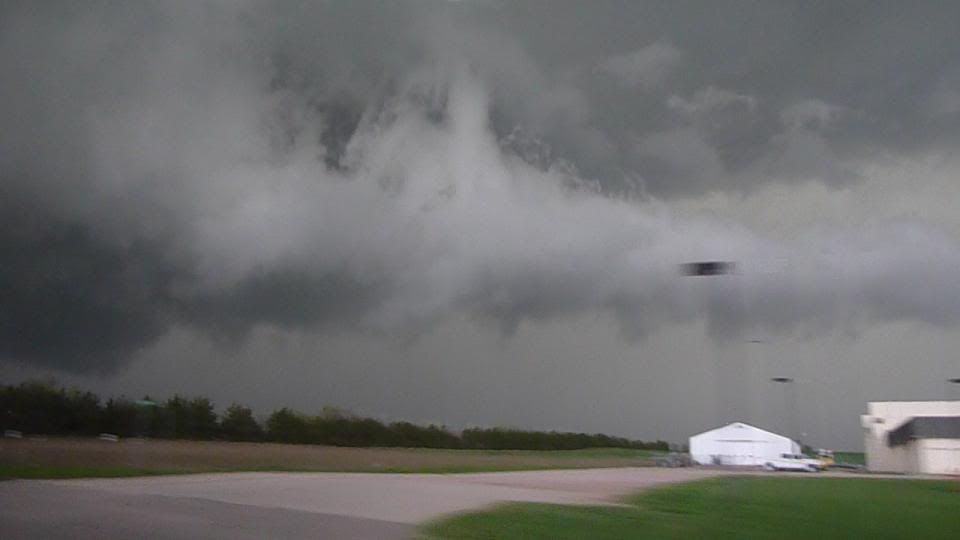 Driving at 90 mph to try to get ahead of this thing!
--
Much later in the day, we were driving on the rear side of a squall line in Nebraska. Rounded pouches called mammatus developed on the underside of the storm clouds. I've seen these pretty commonly, but it's always been on a relatively sTmall scale. These literally filled over 3/4 of the sky and were lit by the setting sun. The pictures really don't do justice to the otherworldly look of these things.
Down in front!
Getting even more prevalent here.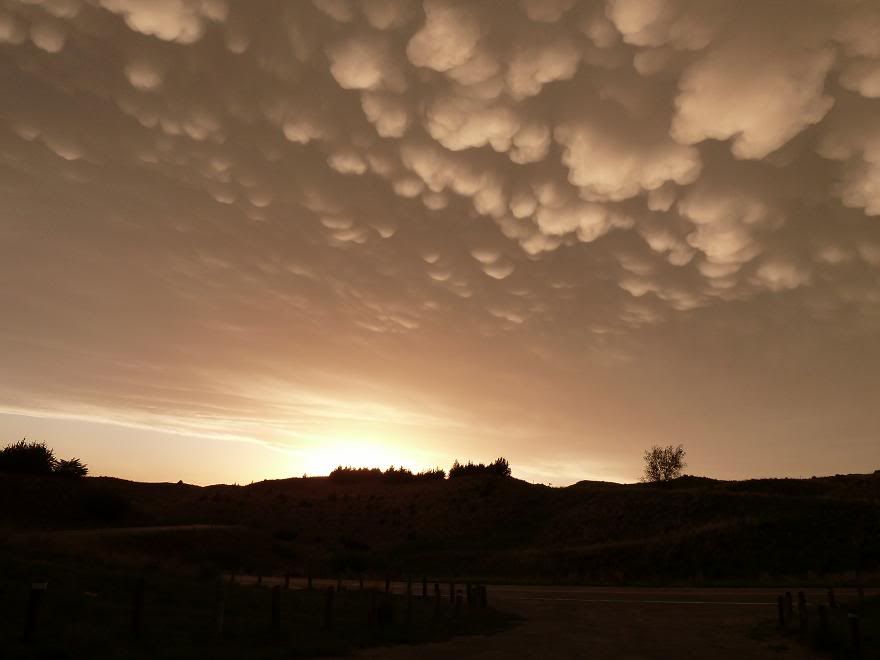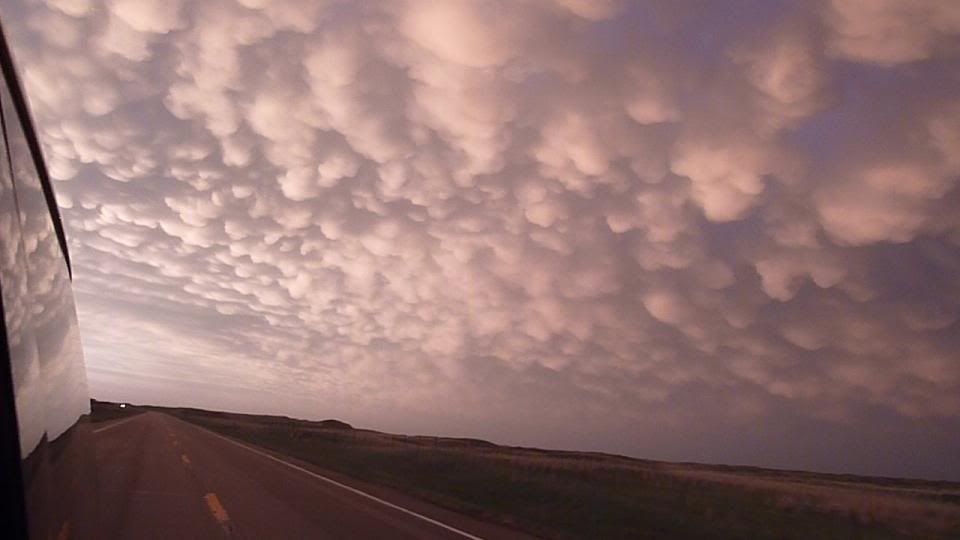 The sky was just filled with these things.
********************
Still to come: Even neater pictures from days 3 and 4 of the chase, my camera breaks, and I tantalize you with tales of various national monuments and tourist traps!