Post by solgroupie on Sept 8, 2009 15:24:43 GMT -5
thanks, doc. it's a labor of love.
the kid, part 1
before we can talk about chaplin's film,
the kid,
i have to acknowledge a major event that not only changed the course of chaplin's career, but changed film making forever.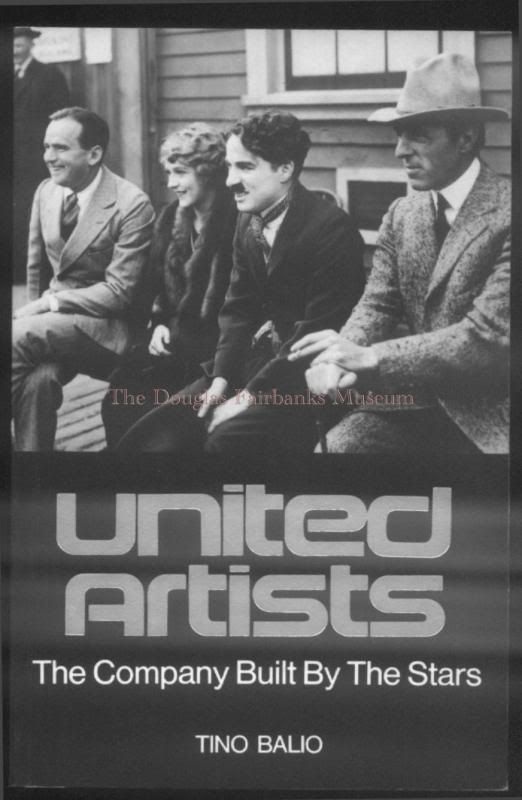 for chaplin, it began after he finished
a dog's life,
when he went to j.d. williams, the president of first national about more money for his future films. williams suggested chaplin speak to the company's exhibitors, which he did. but his audience was not very receptive to what he thought was a reasonable request. after all, he was their biggest star. sydney informed chaplin that there had been rumors that all producing companies would be merging and that might have been the reason why first national was not willing to invest any more money than they already had with chaplin.
since douglas fairbanks and mary pickford were having similar problems with their company, paramount, they decided to hire a detective to find out what they could. they hired a pretty woman to entice an executive to an "important producing company," and she learned (while fighting off this guy's advances) he and his associates were forming a forty-million dollar merger of all the film companies. he said it would prevent actors from getting astronomical salaries. yeah, that worked.
chaplin, pickford, fairbanks, d.w. griffith, along with w.s. hart met for dinner soon afterwards to discuss the possibilities of this unheard of project. a couple of the opposing executives - one of which was williams - the president of first national - saw the group sitting together, which alarmed them. according to chaplin's autobiography, they were discussing the terms of this project, but when an executive would come in, fairbanks would suddenly start talking nonsense to throw them off course - "the cabbages on the peanuts and the groceries on the pork carry a great deal of weight these days."
gotta love douglas fairbanks
members of the media soon showed up and it was there that the founding members of united artists announced their plans - to form a company that would protect their independence and fight the merger.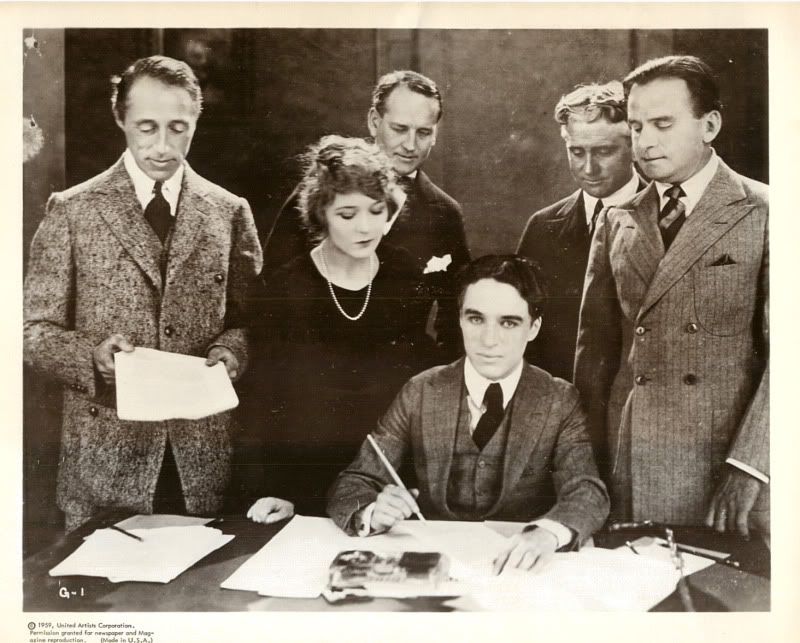 making united artists official - d.w. griffith, mary pickford, charlie chaplin, douglas fairbanks
chaplin was not very business minded. i don't think he enjoyed the meetings with the lawyers and the managers and working out the details of creating a film company. sydney did most of the work on that side, but since chaplin was one of the creators, he had to be there. it was during these meetings he learned of mary pickford's business acumen, which surprised him. though i love chaplin, i don't think he always had the highest opinion of women sometimes. he could be a distraction for mary during these meetings that bored him. one in particular, when she began to say, "it behooves us, gentlemen -" - chaplin broke into loud laughter, repeating, "it behooves us! it
behooves
us!" chaplin and pickford were friends, but it was well known that they often disagreed in business.
mary pickford - more than just a pretty face
journalist rowland made the famous quip, "the lunatics have taken over the asylum," after united artists' birth. say what you will, but UA is still with us today.
both fairbanks and pickford began making movies for their new company within six months. but chaplin was still under obligation to first national for six more films. their attitude to all that had happened had a negative impact on chaplin's creativity. he offered to buy his contract out, but they refused. pfft.
babies.
now, on to
the kid -
chaplin's first true masterpiece.
chaplin and jackie coogan in the kid
chaplin had first seen little four-year-old jackie coogan perform with his father in a vaudeville type act. he came on stage and did a little dance that got a huge reaction from the audience. it wasn't until chaplin heard from an associate that jackie had been signed up by roscoe arbuckle for a film that he realized the possibilities of pairing up the tramp with someone like jackie coogan. just as soon as chaplin heard the news, he went nuts, kicking himself for not thinking of doing it first. he had seen coogan's potential firsthand. he said he wasted a whole day thinking of all the comedic situations the tramp and the kid could get into - only to remind himself that it was too late.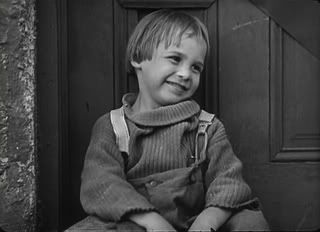 jackie coogan, the kid
then chaplin's publicity man came bursting in with the news: arbuckle had signed jack coogan, jackie's
father
for a film, not jackie! everyone in the studio went crazy with excitement. they were very secretive about bringing jack coogan in to talk to him about chaplin's idea, fearing someone else would magically come up with the same idea at the same time. when chaplin asked jack if they could use his son for his next picture, coogan said, "why of course you can have the little punk."
jack coogan had a small part in the flophouse scene in the kid
up next, i'll finish
the kid
. stay tuned!