Post by solgroupie on Oct 8, 2009 14:17:19 GMT -5
the gold rush,
part IV
newspaper advertisement for the gold rush from 1925
chaplin's newest picture was causing quite a stir among the masses. this was to be his far most ambitious picture to date and it was taking so long to just get finished. a lot of pressure was on chaplin, but by this time he was used to it.
chaplin on the edge in the opening shots of the little tramp in the gold rush
now it is time in the movie to meet georgia. she lives in a busy village, one of many that has sprung up nearly overnight due to the invasion of prospectors in search of gold. she and her girlfriends all work as dance hall girls in a local saloon. her boyfriend is big, handsome, arrogant jack cameron, played by malcolm waite. all the girls seem to love jack, but georgia keeps herself at arm's length with him, knowing he is not her true love.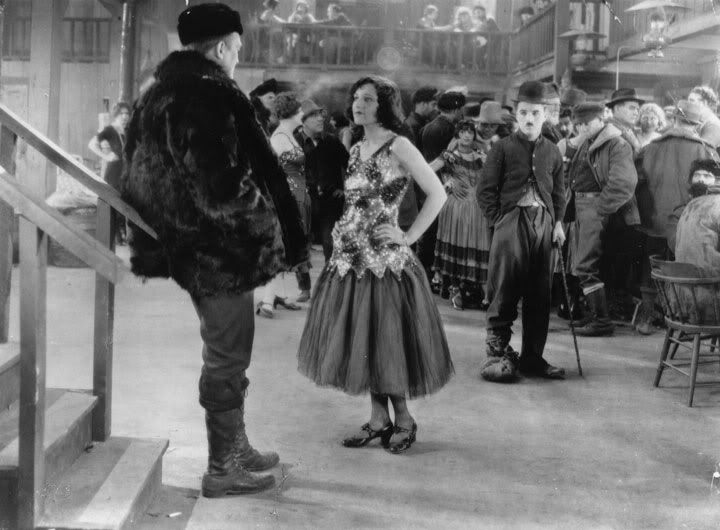 chaplin and georgia hale in the gold rush
georgia is at the saloon and meets a man who she has paid to take professional pictures of her in her fancy dance hall dress. as she is showing them to her friends, jack snatches one of the pictures out of her hand and playfully holds it just out of her reach. angry, she gets the picture back and then throws it on the floor to show her disdain for jack's behavior. jack merely grabs a couple of more girls and sets off to have a good time.
the tramp, still missing the shoe he ate, finds himself in the bustling village and enters the saloon, taking in all the music and activity. this is one of my favorite shots in
the gold rush
. the tramp walks up and stands with a large crowd of people. as the music begins, they all began to depart two by two to the dance floor. all but the tramp is left, which sums up his character better than almost anything i've ever seen.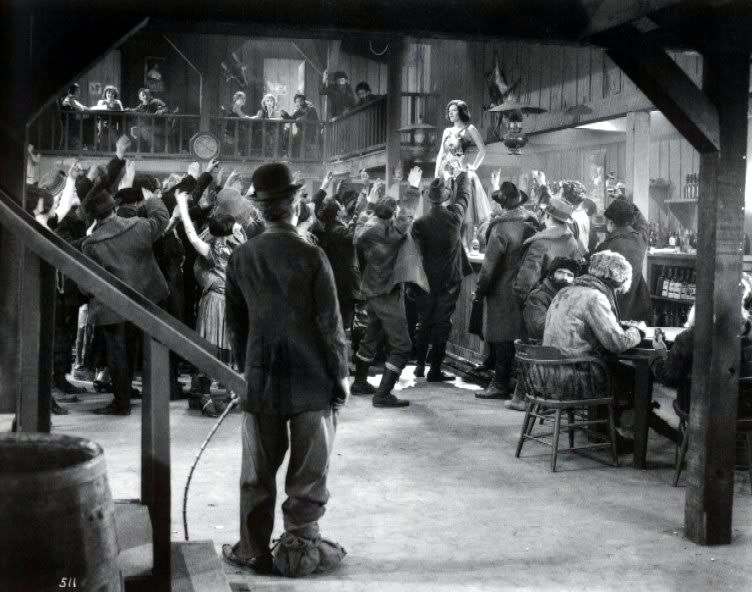 chaplin in the gold rush
he sees georgia and as usual, is immediately enchanted. in a most painful scene, you see the hopefulness of the tramp as he sees georgia making eyes at him. as he begins to tip his hat as she approaches, he is crestfallen and embarrassed to see her pass him and talk to the man she was really looking at who was standing behind the tramp.
georgia then stands near the tramp as she talks to a girlfriend about how bored she is with everything, wishing she could meet someone really special for a change. she doesn't see the fierce longing of the tramp behind her as her eyes scan the crowd.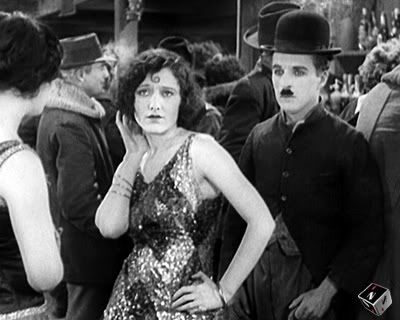 chaplin with georgia hale in the gold rush
walking away, the tramp discovers the discarded picture of georgia and tucks it into his pocket. meanwhile, jack wants to dance with georgia. she doesn't appreciate his obnoxious treatment, so she declines. when he insists, she spots the worst looking guy in the room to dance with, to show jack how much she would rather dance with anyone but him - and invites the tramp to dance with her. of course he is only too happy to oblige, having no idea of the point she is trying to make. they begin to dance, but the tramp has a problem. his pants are baggy and in danger of falling down. while georgia is momentarily distracted he quickly sees a rope and ties it around his waist as a belt, not knowing that on the other end is a dog.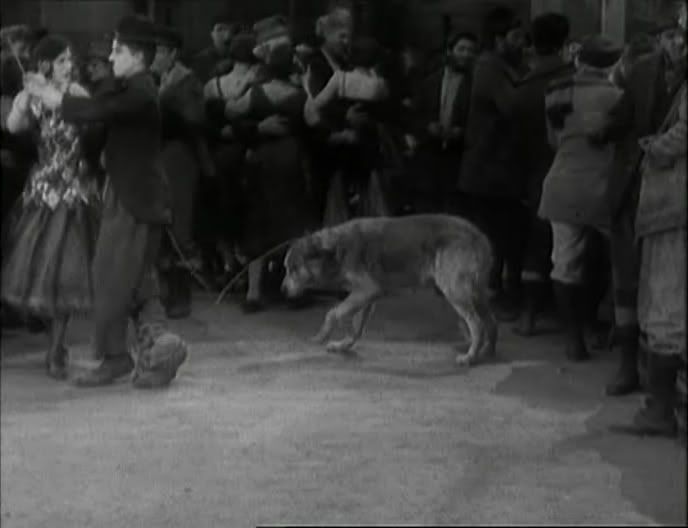 shades of a dog's life in the gold rush
the couple seem bewildered why the mangy dog keeps following them around as they dance, but when a stray cat just happens to walk through, the truth is unfolded as the tramp takes a nasty fall.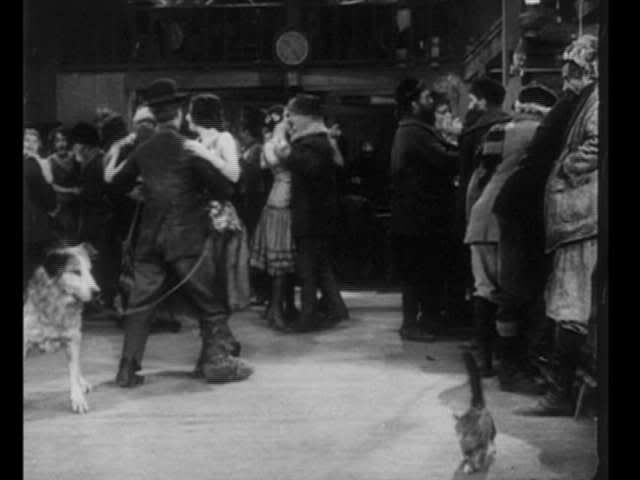 after the dance, georgia makes a big show about thanking the tramp, giving him a flower and a lingering look as she walks through a door. of course this was all done for jack's sake, who starts after her. but the tramp blocks his path, reading jack's intention. jack is amused that anyone - especially a little hobo would try to stand up to him.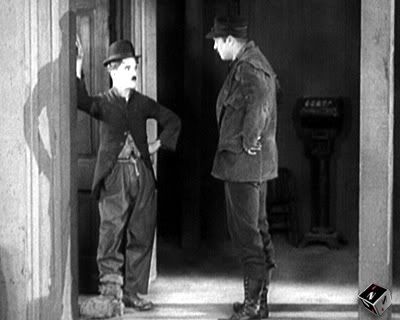 chivalry ain't dead in the gold rush
knowing the tramp is no match for his strength, jack plays with him, pulling his hat down over his eyes. the tramp takes a wild swing at jack, only hitting a wooden beam. as the tramp dances around in pain, a clock from the beam falls and knocks jack out cold. by the time the tramp removes his hat, it appears he has been the one who punched out jack. the tramp leaves, quite pleased with himself.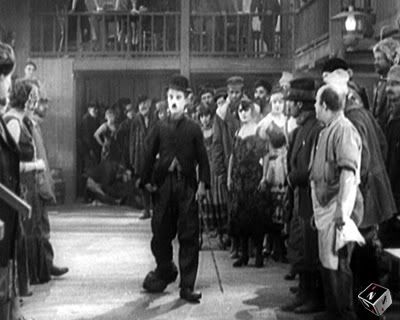 even so, the tramp is still hungry. the next morning he smells breakfast cooking from a cabin and sees hank curtis (played by ever faithful henry bergman) preparing it. the tramp stretches out in the snow and pretends to be frozen. hank finds him and hurries him into the warm cabin and feeds him. it's a funny little scene that reminds me of many shorts past where bergman and chaplin worked so well together.
it is arranged that the tramp will be caretaker of the cabin while hank is off in search of his own gold. now the tramp has a home and job and the promise of romance. things are looking up.
up next: part V of
the gold rush