Post by Torgo on Jan 27, 2010 1:56:45 GMT -5
I don't even know why I'm writing this. I tried a blog several years back. It became a chore and I let it die.
I guess this is my little spot. I like to write. And in case I ever have anything cooking, here it goes. Why Gods and Monsters? I like Gods and Monsters. Anything from old mythology to Marvel and DC superheroes and Toho and Universal creature features. Of course, I might venture further than that. Depending what I'm in the mood in.
What do I have first for us? Well, we have Gods and Monsters, why not do the one thing from my childhood that included a lot of both?


Chapter I

It's Posin' Time!
Last Saturday, my girlfriend and I woke up and we had pretty much nothing to do. This was the first lazy Saturday morning I've had in a long time. What do we do? Turn on Saturday Morning Cartoons!
What am I greeted with? The
original
Mighty Morphin' Power Rangers! Not Jungle Fury. Not RPM. Not whatever the hell they became in recent years.
My
Power Rangers. Jason, Zack, Trini, Kimberly, Billy, and their badass Dinozords. This was even before Tommy joined the group as the Green Ranger (none of that White Ranger Tigerzord crap. Dragonzord FTW motherf***ers!).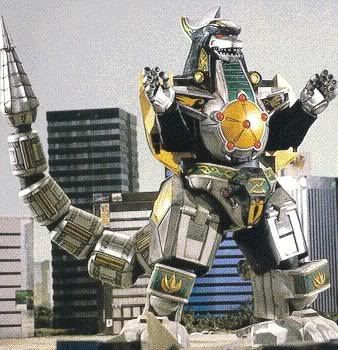 I heard the original Power Rangers were back on television, upon the cancelation of the series after 17 years (is there anyone who doesn't agree that 17 seasons is enough? Other than the showrunners behind the Simpsons?). I hadn't intended on watching it, but switching on the television and coming across somthing that held so much meaning to me when I was 9 years old was just something I couldn't resist. Both my girlfriend and I had a wild good time.
There were two episodes featured. One was where the Rangers were having a bake sale only to have the Pudgy Pig eat everything in sight. The other was the one was where Trini and Kimberly became mentors to a little girl only to have her kidnapped by the Chunky Chicken who intends to use her to...I don't know. Something about "Power Eggs" that only an innocent child can obtain. I laughed at the unoriginality when it came to naming things on their part. A Pudgy Pig and a Chunky Chicken back to back really displayed that weakness.
And all the posing! Wow! Everytime they did something in uniform, it was a pose. Even when they punched and kicked and spoke to each other, they had to pose. God help me, I actually missed that!
I probably should have been infuriated with the additions Disney had "revamped" it with. All the "Exclaimation!" balloons that popped up every once in a while during a fight scene and whatnot. Kind of like the 60's Batman, only less creative (instead of "POW!" and "BAM!" these said "PUNCH!" and "KICK!" Really? We can't do better than that?). I really didn't care as much as you would think I would have. Sure, it's a show I'm fond of, but it's still cheesy as hell.
After this experience, I dug up my old VHSes that I have boxed up and plucked out my copies of Mighty Morphin' Power Rangers: The Movie and Turbo: A Power Rangers Movie. I just couldn't resist the temptation. I got a little taste of a childhood obsession and wanted more. The first one is a definate childhood treasure for me. Much more polished than most of the series, with CGI Zords to boot.
Very early CGI
. The CG in this movie is horrible. It's what would be considered direct to video quality now. But back then it was new and shiny. I'll never prefer it to good old men in rubber suits, but it was a fun change of pace. And most of all...Lord Zedd. God, I missed Lord Zedd. I forgot how awsome he was in every single way imaginable. Goldar was a warming presance too.
Then there was Turbo...this movie is much better when your 11, I'll tell you that much. So incredibly padded, and the villains blow (with the exception of Rita's cameo with a snoring Zedd). I never noticed what an obnoxious little s*** Justin was while watching this movie and Power Rangers: Turbo on the tube. And too little Megazord time. The Turbo Megazord was probably second only to the original Megazord as my favorite Megazord of the bunch, and it's appearance is much more barely there than I remember it.
The one fun experience I did have with Turbo upon revisiting it was the involvment of original Pink and Red Rangers Kimberly and Jason. When they were trying to escape from the villians submarine, I had a rather odd feeling I didn't think I should have felt while watching this lame movie...I actually cared whether they survived or not. Why? I hadn't seen these characters since I was a child. Why do I still care about them even though they were in a silly toy comercial series on Saturday Morning in the early 90's? I came to one conclusion. Reguardless of the intentions of those behind the series (that being ratings and $$$ in toy revenue), these characters meant something to me when I was a child. I grew up with them. I lived with them. I loved them. No glaring obviousnesses about the Power Rangers franchise in my adulthood will ever change that. When they became possessed by evil beings and turned against the Turbo Rangers at the end, I felt hurt and it pained me to watch it. What else would have that effect on me?
This weird experience propted me to pull out more Power Rangers tapes I had collected in my youth. I didn't have many. About 8 episodes, I think. It felt odd to me at first. Then I remembered that Power Rangers were on
all the time
when I was a kid, and I didn't really have much need in taping them. Except for five episodes in particular. The Green With Evil miniseries. Had to watch those first. Good f'in' stuff. Reminded me why I was so obsessed with this show when I was a kid. Tommy's arc, while childishly constructed, was facinating.
I have three more episodes. Two from the first season...and one more from that Alien Rangers series that preceeded Power Rangers: Zeo. I don't know how I ended up with that, but meh. I haven't watched them yet, but I feel like I should intend to. At least until next Saturday Morning.
For those of you who just don't get me, I don't blame you. But I think we all have that show from our childhood that we just love no matter what. Even if it doesn't turn out to be as good as we remember it. Transformers, Teenage Mutant Ninja Turtles, and Power Rangers belong in that catagory for me.
Imagine being a young boy when it first came out. Power Rangers was like
nothing else
I had seen before on the kids show blocks. Yes, a dubbed release of Ultraman predated it by several decades, but I had never heard of Ultraman and I probably wouldn't have cared if someone tried to explain it to me. The original five were always my favorites. I liked Tommy too, or at least when he was first introduced. I came to dislike Tommy after he became the White Ranger and the Ranger's mentor, Zordon, just handed him the leadership role. What was wrong with Jason? I always thought that was such bulls***.
I stayed with it after Jason, Trini, and Zack were traded for Rocky, Aishia, and Adam (over pay disputes, I hear). I didn't really like the newbies (well, I
kinda
warmed to Adam over time), but whatever. When Kimberly bowed out in favor of Kat, I was disappointed (I never realized how much hotter Kat was than Kimberly until I became an adult). I stayed through Alien Rangers, though I wasn't entirely interested in that. Zeo started to lose me. All of the originals were gone (even the villians in favor of a bunch of stupid looking robots), sans Billy, who stayed on as a non-Ranger. Tommy counts for something, I guess, though. Then the Gold Ranger episodes happenned. When I found out they were going to have the Gold Ranger be an established character, I thought it had to be Billy. I was so excited to see him back as a Ranger. But then...it turned out to be Jason...
Jason...
JASON
!?!? I went absolutly nuts! Jason was back! He was a Power Ranger again! Too bad it wouldn't last long.
By Turbo, I was probably too old for the show, but I kept watching. I don't really know why. Superheroes, monsters, and robots, I guess. Tommy, Adam, and Kat were the only Rangers from Mighty Morphin' left, and midseason they left me with a group of newbies. Sigh. My childhood heroes suddenly went POOF!
I watched Power Rangers in Space in it's entirety. I remember that one being a lot of fun in spite of the lack of
my
Rangers. And I was thrilled that it closed a lot of plotlines dangling loose from way back in the Mighty Morphin' era. The show as I knew it was over.
What next? They're still doing Power Rangers? I watched the first episode of Lost Galaxy. I don't remember much about it. I don't think I thoguht it was bad, but I never watched another one. Power Rangers was officially over for me.
And here I am, all these years later, talking about them again. I didn't think this day would ever come. But it did. And I'm glad. I am happy I could relive Power Rangers. If there are any others here that watched it in their youths, I hope I helped you relive it with me.
This post is dedicated to the memory of Thuy Trang. Trini, the original Yellow Ranger.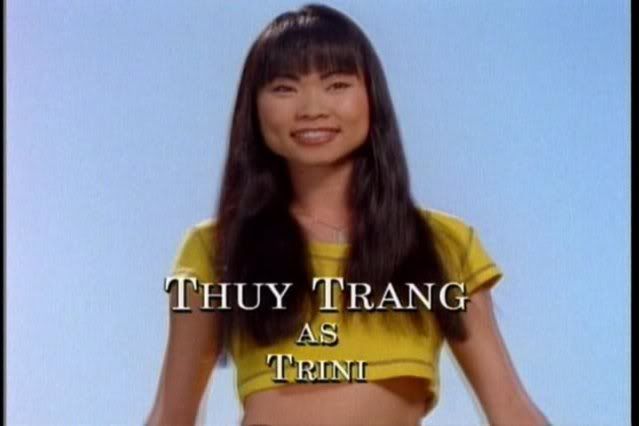 Most of you probably know her as the Ranger that was a chick in the US but a dude in the Japanese stock footage (appearantly those who distributed it to us thought Yellow was a more feminine color). On September 3rd, 2001, Trang was tragicly killed in a car accident. She was only 27.
I had known this for several years, and it still saddens me. Unfortunatly Miss Trang didn't do much outside of Power Rangers. Those who knew her as I did as a Power Ranger may enjoy her as a villian in the film the Crow: City of Angels, though.
Rest in peace, Thuy. And I'll yell it one more time for you..SABER-TOOHED TIGER!