Post by callipygias on Feb 26, 2010 20:02:41 GMT -5
The Twilight Zone ~ And When the Sky Was Opened
Starring Rod Taylor as Col. Clegg Forbes, one of three astronauts recently returned from a space mission. One of them is in the hospital with a broken leg, and the other two, Forbes and Harrington, go to a bar where...
things
start to happen. One of the very best Zones, and my personal favorite, but relatively unknown next to other great ones.
Star Trek: The Next Generation ~ The Inner Light
TNG is my favorite Star Trek series, mostly because of the ever watchable Patrick Stewart, and this is one of his most amazing performances. Picard is zapped by a probe and in the space of a few minutes lives an entire life on a dying planet. An excellent and pretty unusual episode, for a Trek.
Inner Light
also sets up another good, quiet episode called
Lessons
, which has Trek's best use of music ever, in my opinion.
Star Trek: Deep Space Nine ~ The Visitor
Despite all the great story-arc episodes about the war with the Dominion, my favorite is a stand-alone that stars, mostly, a guest. Captain Sisko becomes trapped in subspace, and the story revolves around his son, Jake's, desperation to get his father back. Beautiful, touching show, and as good as Avery Brooks was, Tony Todd, the guest star who played a grown up (and grown old) Jake Sisko, dominated.
Three's Company ~ Up In the Air
Jack's afraid to fly to an island party so he takes a tranquilizer, then at the party he inadvertantly drinks alcohol, and he pretty much goes wild. John Ritter was one of the best physical comedians since the silent days, and this was his greatest showcase -- especially once he started dancing. Most scenes would have ended when he fell behind the bar, but thank goodness this one didn't.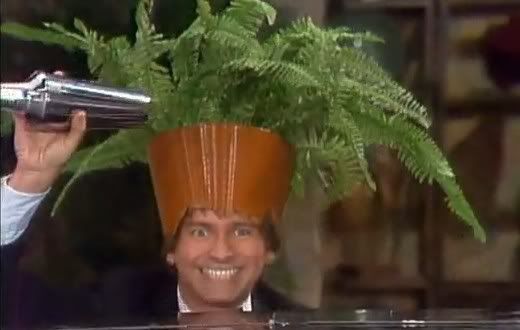 Looney Tunes ~ The Great Piggy Bank Robbery
Growing up, most of my favorites had Bugs, but this might have been my overall favorite when I was little.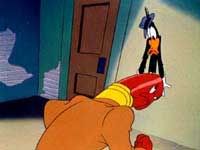 Absolutely Fabulous ~ Morocco
I almost went with
Birth
(Patsy sitting up in the smoldering kitchen was one of the funniest things ever),
Poor
, which is so great all the way through, and... which one was it when Saffy slapped Eddy in the kitchen? God Eddy's reaction was funny.
Morocco
is also great all the way through though, and this scene with Bubble put it over the top.