Post by caucasoididiot on Mar 7, 2010 21:09:19 GMT -5
I thought it might be worth posting some pictures of where I lived in Japan, though I'm afraid the photos I can find aren't that great. Interior shots are especially lacking, but maybe you can get some idea.
The town was called Kami-fukuoka when I moved there, a name which villages on that site apparently have had for centuries. However, a local politician smarting at "do-nothing" charges changed it to Fujimino-shi. This means "The city from which you can see Fuji," and if the day is
very
clear and you're on top of a
rather
tall bldg, you can. But the train station is still called Kami-fukuoka and the next one down the line is Fujimino, which just goes to prove that politics is poopadoodle in any language.
Kami-fukuoka is some 40 minutes from Tokyo on the train. Like all Japanese towns it's pretty dense with narrow streets. At first my wife and I had an apartment, but after Yuuto was born we moved back in with her mother. Here are fore and aft views of her house.
It's a pretty typical one for Japan, nice in that it's a corner lot. Aside from the building's own footprint and a driveway (which is in front, that blue car in the back view is a neighbor's) there's about a meter all the way around to the property line. It's small but comfortable. The first floor has a
wash(i)tsu
room with
tatami
, the kitchen, toilet and bathroom. Note that only the smallest Japanese apartments put the toilet in the same room as the bath; they find that quite yucky.
The bathroom works similarly to the
onsen
I described earlier, in that you wash with a shower hose and basin before getting into the tub to soak. The tub is quite deep and comes up to your neck. The window was usually open, so in winter you tend to wash quickly! Everyone soaks in the same water, and so there's an established order based on family precedence that's usually adhered to. One exception to this is when there's a baby in the family, who goes last. Should you ever need it, the Japanese for, "Oh no! He pooped!" is
Ara! Unchi deta!
「あら!うんち出た!」
Upstairs were two bedrooms and a
very
small storage area. My mother-in-law slept in the downstairs
wash(i)tsu
, my brother-in-law in one upstairs room and Yuuto
et al
in the other. We had the one with the balcony, but that was actually just big enough for a clothesline (as few Japanese have dryers, and those that do don't like using them).
There is no central heat or air. Typically one room will have a heat/airco unit and the others will have fans and space heaters. By the way, that's why the electrically heated seats some Japanese toilets have are not as silly as they initially sound. Most homes also have a
kotatsu
, the low table with a heater on the underside for winter use. In cold weather it has a skirt that you put your legs under and is quite toasty.
As an aside, a student in Ogawa once invited me to lunch at his 200 year old farmhouse. His was still the traditional style where the
kotatsu
was over an actual fire-pit, but as it was summer we weren't using that. What a shame.
Later we bought a house nearby, and here the front and back views of it:
It's the middle beige one in the back view, and this also shows you the lovely view of a parking lot which it commands. Again, the parking spaces are literally two meters from the back door, and that car in the front view is the neighbor's. Japan is not a country for claustrophobes. Here's the view of or neighbor's balcony from my widow:
The layout is essentially similar to the first house, though this one has three upstairs rooms and a second bath there. Downstairs it has both a living room with a heated floor and a
wash(i)tsu
. The tub even has an LCD TV screen in front of it, which struck me as heinous. Unlike the older house the kitchen was designed with all the gas tubing and such under smooth and easily cleaned surfaces, but that didn't stop my wife from covering all of these with dangerously flammable saran wrap. ( /-_-)
Tatami
is interesting stuff. It's green and highly fragrant when new, but ages to a golden color. Heh heh, if you stack stuff in a corner and later move it you get green "footprints." One nifty aspect of it is illustrated by the photo above: at that stage Yuuto didn't have enough strength to lift up and crawl but he could "swim" across the
tatami
quite easily.
Heh heh . . . my wife would
still
kill me if she saw that picture. Ours was not a fancy toilet. I've seen ones whose control banks put Captain Kirk's chair to shame (and there's story there, but another time). My boss had one that sensed your approach and opened automatically. It even had onboard logic that decided wether to lift the seat or not. But one clever feature that you can sort of see in ours is the hand-washing station atop the tank. It's very efficient, once you get over the sense that you're washing in soon-to-be toilet water. Note also the paper dispensers. There's no over/under debate in Japan due to the little dust-cover. Also note the neatly folded ends on the auxiliary roll.
And lastly -- after a nice after dinner drink -- my cat hanging with a
kappa
.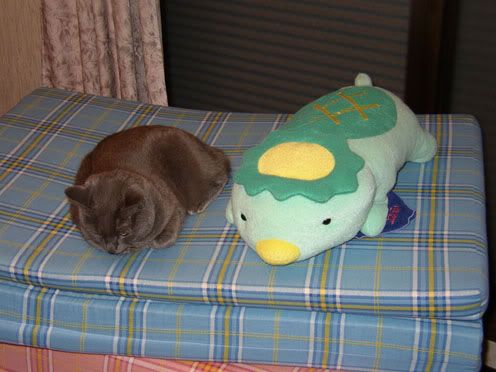 Goodnight and have a pleasant tomorrow.