Post by callipygias on Feb 27, 2011 18:28:10 GMT -5
#13
The Music of Erich Zann(1921)H.P. Lovecraft
[/center][/color]
Reading the best Lovecraft is like dreaming that dream that something horrible is chasing you, and no matter how long or fast you run you know
it's right behind you
; you know that if you dare turn around to look, THAT's when it will get you -- kuhCHAWMP! His stories are waaay out there, but they tap into a corner of our minds labeled with a cobwebby old sign that says: PRIMAL FEARS. He uses our imagination against us by exploiting our fear of the unknown to great effect, and when he manages to hold that uncertainty all the way through to the end is when he's at his very best, like in
The Music of Erich Zann
or
The Colour Out of Space
(shamefully forgotten when I was making the list!). There are several more authors yet to come who, like H.P.L., believed that there are things out there so alien we're completely incapable of understanding them.
The story starts with the narrator unable to find his way back to the house, the street, or even the neighborhood where he had previously rented a room for a time beneath the room of a mute, haunted violinist, named Erich Zann, and it ends with him "Leaping, floating, flying down those endless stairs through the dark house; racing mindlessly out into the narrow, steep, and ancient street of steps and tottering houses; clattering down steps and over cobbles to the lower streets and the putrid canyon-walled river; panting across the great dark bridge to the broader, healthier streets and boulevards...." In the small space between we discover Erich Zann and his inexplicably terrifying, otherworldly music through the impression it makes on the narrator.
It would be useless to describe the playing of Erich Zann
on that dreadful night.... He was trying to make a noise;
to ward something off or drown something out—what, I
could not imagine, awesome though I felt it must be. The
playing grew fantastic, delirious, and hysterical, yet kept
to the last the qualities of supreme genius which I knew
this strange old man possessed. ...Louder and louder,
wilder and wilder, mounted the shrieking and whining of
that desperate viol. And then I thought I heard a shriller,
steadier note that was not from the viol; a calm, deliberate,
purposeful, mocking note from far away in the west.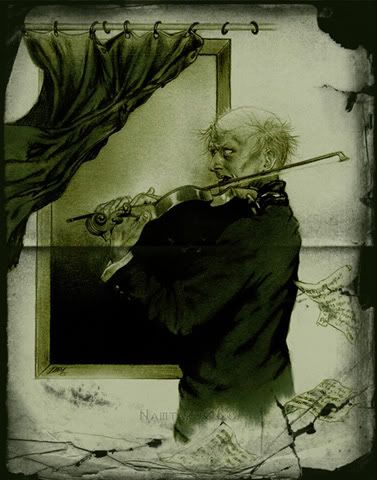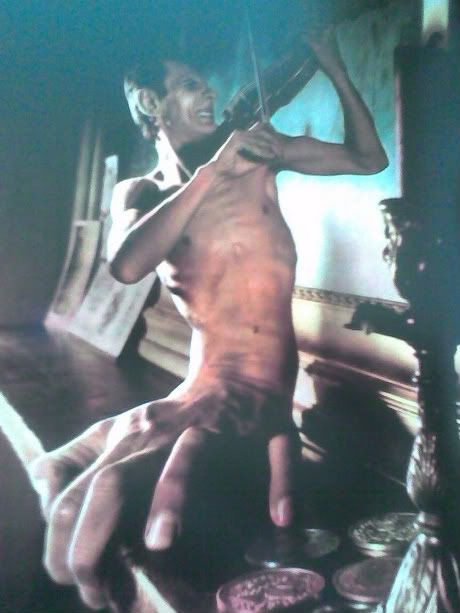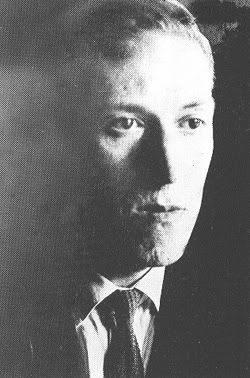 H.P. Lovecraft