Post by Torgo on Jun 20, 2012 2:09:51 GMT -5
Good day True Believers, excelsior, 'nuff said, and all that other nonsense that makes Marvel so damn cool. With the new Spider-Man film on the horizon, I've been bitten by the Spidey-bug. Been sinking my teeth into various TV shows and dug up my digital comics collection and have been skimming through them.
With all the Spidey love I've been giving, I thought I might share them with this little Spider-Man section of my own. Enjoy as I take a look back at some of the most memorable issues of Spidey's years in comicdom.
For my first spotlight is dedicated to a special lady, she knows who she is…
PETER <3 GWEN 4EVER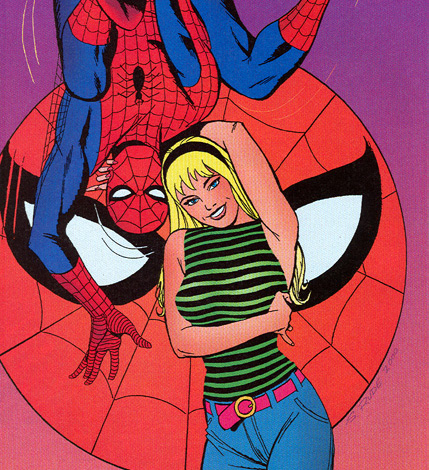 I'm plenty excited for the new movie and seeing Spider-Man tangle with an all-time favorite villain of mine, the Lizard. What I'm even more excited for, however, is finally Mary Jane is given a break. I've never been an MJ fan. She's as beautiful as she is obnoxious. Granted the Kirsten Dunst MJ was more of a hybrid character of anything, between that of MJ, Gwen, and Liz Allan, but in the end, it was still Mary Jane.
Count me in as one of those who think the true love of Peter's life is and will always be Gwen Stacy. Oh, I have a soft spot in my heart for his first romance with Betty Brant, and his playful relationship with Black Cat is always a pleasure, but Gwen was just the sweetheart to end all sweethearts, a girl not just Peter could fall in love with, but a girl every man could fall in love with.
Despite her popularity, Gwen has rarely been featured in the television and film media featuring Spider-Man. Her first appearance in
anything
was in 1998, a cameo appearance in the final episodes of the 90's cartoon as an alternate dimension wife of Peter's. She had a minor reference in the 2003 MTV series as a chat buddy of Peter's under the name of GS121 (the number sequence referencing the issue the character died in), but wouldn't be seen onscreen again until Spider-Man 3 in 2007 played by natural redhead Bryce Dallas Howard (contrasting natural blond Kirsten Dunst playing Mary Jane), a bit of a disappointing supporting role where she did very little except be there. He first really juicy role was in 2008's Spectacular Spider-Man voiced by Lacey Chabert, where she was re-imagined as one of Peter's nerdy friends who was secretly in love with him.
And with the new Amazing Spider-Man feature, she's finally the leading lady. It's nice seeing the girl get her due, this time played by the foxy Emma Stone (also naturally a redhead).
In my Spotlight tonight, I'll be celebrating beginnings and endings, with five issues chronicling her first and last appearances in Spider-Man lore, Amazing Spider-Man #31-33 and Amazing Spider-Man #121-122. I remember when I first ventured into the classic Spidey comics years ago I had singled out these five issues as my favorites. I didn't realize what they had in common until I reread them just now, and that's the introduction and untimely death of Gwen. Oh, the death went noticed, I'll tell you that much, but it never occurred to me that ASM 31 was her first issue when I read it, as her role is fairly minor as a college girl trying to get to know Peter, yet constantly getting the cold shoulder.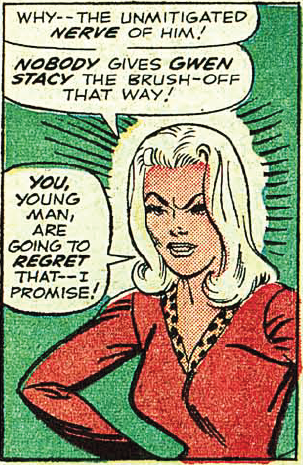 It's not the most charming introduction, but not everything can be "Face it, Tiger, you just hit the jackpot!"
The primary story, titled "If This Be My Destiny…" overshadows the appearance of Peter's destined girlfriend. Peter begins college just as Aunt May falls ill, and finds his life more complicated than ever. He drifts through the college campus barely acknowledging anyone, including the advances of one blond bombshell and ignorant to the pranks of future best friend/sworn enemy Harry Osborn. As it is, he's utterly oblivious that he has become the most disliked student on campus because of his anti-social behavior.
But where's the Spidey-action? The issue is high on Peter's personal issues and light on Spidey. A subplot involves the rise of an unseen menace known as the Master Planner. Two high-tech heists take place in the duration of the issue, and Spidey swings in to stop them. It's pretty much all prologue, though. The next two issues entirely kick this one's ass.
Even though it doesn't feature Gwen, "Man on a Rampage" is somewhat significant of their relationship in that it features Peter trying to push Betty into breaking up with him, driving her into the arms of Ned Leeds, as Peter's first real relationship goes down the tubes, he will eventually find another one born from the ashes.
But the story takes a turn for the worse, as Peter discovers the true cause of Aunt May's ailment: radiation. It seems a blood transfusion from Peter in a previous issue (unhelpful Stan Lee can't recall the issue, so he leaves a note offering a No Prize to anybody who can name it) is deduced by the webslinger to be the cause. Peter (as Spider-Man) seeks help from former villain turned ally Dr. Curt "The Lizard" Connors, who coincidentally just moved to New York!
Well, there's only so many ways you can tell a story in 20 brief pages, so I'll allow it.
Dr. Connors orders a serum called 150-36 to help with May's treatments, which is immediately stolen by Doctor Octopus. Oh, did I mention Doctor Octopus is the Master Planner? That's kind of important, isn't it? Oh well, Stan Lee seemed to forgot he never mentioned it in the last issue, and kind of introduces the idea as if we've known it all along at the beginning of the issue. It's a minor storytelling fault, but moving on…
Spidey swings into action in order to reacquire the 150-36 and storms the streets of New York looking for any information he can find leading him to "The Master Planner." Finally he finds the Planner's secret lair, which leads him into a confrontation with Doc Ock. Spidey's determination intimidates Ock and the Doctor flees, but the hideout caves in on Spider-Man, with the 150-36 just barely out of reach as the story ends.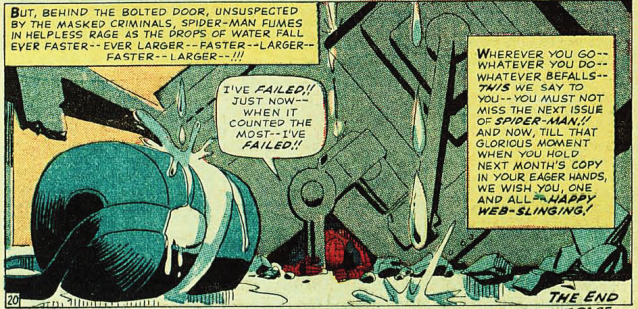 In a recent interview promoting the new film, Stan Lee said his favorite series of panels in a Spider-Man comic were the climatic panels of this issue, featuring Spider-Man trapped under rubble, saying the way Steve Ditko played it out was incredible. I definitely don't disagree, as when you finish the issue you're left with those images burned into your head.
The drive of Spider-Man is truly felt in this issue, as you can feel every emotion he's feeling through the pages. He's like a storm on crime in this issue, tearing through it as a force of nature. This is definitely one of the strongest ASM issues ever put into print.
The third issue, with the not very well thought out title of "The Final Chapter," is also Gwen-less, but it would suck if I included the first issue in an arc without including the rest, now wouldn't it? But with this issue, Peter's breakup with Betty is complete, so it's not entirely irrelevant.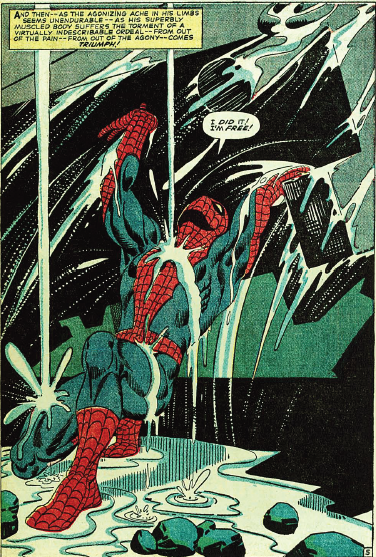 If 31 was prologue, 33 more or less feels epilogue. Spidey fights through exhaustion to free himself and fights off the bad guys in a daze. It's fairly compelling, though the second half is dedicated to tying up loose ends, though Doc Ock is still on the loose. Peter gets the serum to Connors and cures Aunt May, and the money he earns from the photos he sells J. Jonah Jameson pays off May's medical bills.
It's a pretty solid finisher to the arc, though one does yearn for a final confrontation with Ock. But the scenes we get with Jolly Jonah at the end make the ending worthwhile…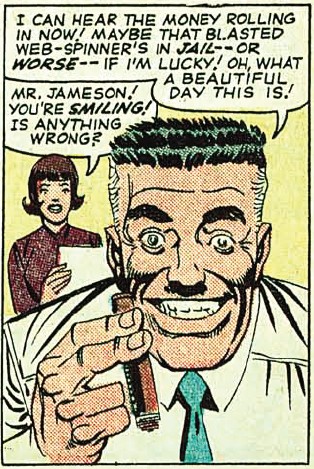 Since these issues, many things had happened between Peter and Gwen. Peter's life as Spider-Man got in the way for a while, as well as Gwen's misunderstood resentment of him. Those two cross combined created a bit of reverse magnet reaction between the two of them. Gwen had dated Flash Thompson and Harry Osborn and Peter had a few flings with Mary Jane Watson leading to a friendly rivalry for his affections that was all smiles and giggles, but he and Ms. Stacy were drawn together in the end. But it wasn't a bed of roses after that, as Gwen's father was killed during a battle between Spider-Man and Doctor Octopus, and she blamed the wallcrawler as a result.
There was also some business recently revealed in the comics about her mothering the twin children of Norman Osborn during a trip to France. Haven't read those issues, and not sure I want to. It's less of the unfaithfulness that bothers me than… unfaithfulness with Norman Osborn? ::shudder:: I prefer my virtuous outlook on Gwen to stay intact, thank you very much.
But then the fateful issue came. As I read these comics, I wasn't sure I wanted it to come. "The Night Gwen Stacy Died" is one of the most important comics of all-time, said to be the first time the damsel in distress
wasn't
saved. Said to be an important turning point, ushering in the Bronze Age of comics where the stories became more serious and nobody was safe from the wrath of the villains, not even the heroes. Since then we've seen death arcs for the second Robin (Jason Todd), Superman, Captain America, Batman, Human Torch, and even Spider-Man himself in his Ultimate incarnation. All of which except Ultimate Spidey were resurrected in one form or another, as it's often said that the only "death" in comics that is permanent is Uncle Ben (Gwen was resurrected as a clone during the Clone Saga many years down the road, yet Gwen herself never came back).
Why did Gwen Stacy have to die? According to then-Spidey-helmers writer Gerry Conway and artist John Romita, Peter had become too happy with her, and the best Spider-Man stories were always about facing the hardships of human life. By killing Gwen they gave Peter a new trial to face, and they felt it was best.
But that doesn't mean we won't miss her.
The issue begins upon Peter's return from battling the Hulk in Canada, only to find that his best friend Harry has fallen back into a drug habit (following a groundbreaking arc Stan Lee wrote about 30 issues ago) and lies sick in bed. Peter tries to see Harry, but is promptly kicked out of the house by Norman Osborn, whose company is having financial woes. The stress between Harry and the office breaks Osborn's mental state and he becomes the Green Goblin once more. Knowing Spider-Man's true identity, he seeks out Peter Parker, but finds Gwen instead.
Finding a calling card jack-o-lantern from the Green Goblin, Spider-Man follows his spider-sense to the George Washington bridge, where the Goblin is keeping Gwen, who is in a state of shock. A fight ensues where Gwen is flung from the bridge. Spider-Man attempts to save Gwen's life by shooting a webline at her, snatching her legs. However, the resulting whiplash kills Gwen instantly.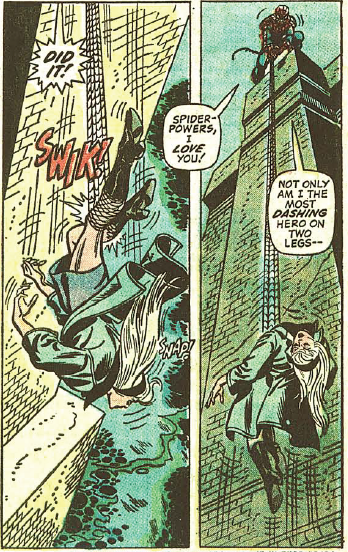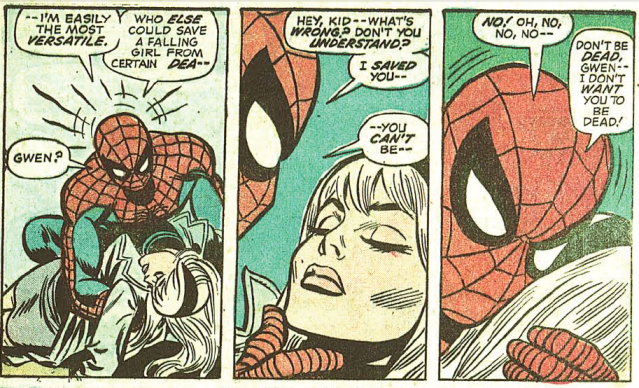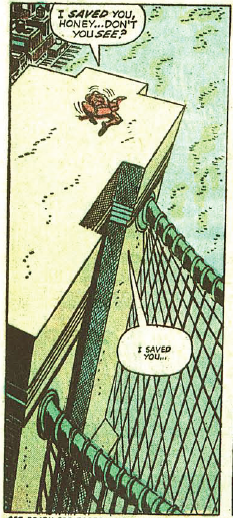 I'd hate to spoil the tragedy being displayed here, but underneath these panels there's an ad for a new Marvel comic book "
GET READY FOR TALES OF THE ZOMBIE! COMING SOON FROM MYSTERIOUS MARVEL!
" Yeah…I don't think they thought that one through.
The subjectiveness of whether the issue can be considered good or bad is somewhat irrelevant. It's slow out the gate and Peter's lack of panel time with his doomed love before the fateful finale feels like a punch below the belt to the main character. However, to this day, the final pages of this book are powerful, even when you know it's coming. It's hard enough knowing that Peter will lose Gwen, but the way it plays out is cruel as he thinks he has saved her in the nick of time and lets out one of his trademark witty remarks, only to be faced with the shocking realization of what he has done. Gwen herself doesn't even have the opportunity of being conscious when her fate comes, either. It's one of the most heartbreaking scenes ever showcased in any medium.
The scene has been reenacted several times since, often between the Green Goblin and Mary Jane and often with Spidey saving the day, which assures that none of them really have the same impact. In normal continuity, the Green Goblin recreated the scenario with Peter's then-wife MJ in an issue of Marvel Knights: Spider Man, with Spidey shooting multiple weblines to soften MJ's fall. In Ultimate Spider-Man, the Ultimate incarnation of the Green Goblin attempted to kill MJ using the same means, but Spidey saves the day yet again, though Mary Jane is left traumatized by the event. In the 2002 feature film version of Spider-Man, Goblin tried it yet again with MJ, but with the added twist of having Spider-Man choose between saving her or innocent civilians.
The closest recreation of the scene (and kind of the weirdest) on film actually happened in the 90's animated series, though liberties were taken to ensure nobody was killed, as Mary Jane falls to her death she is sucked into a portal that keeps her in a sort of dimensional limbo. The explanation of
that
is kind of long winded (the Green Goblin had access to technology from a previous villain called the Spot which could open portals), but unable to find the body, Spider-Man assumed MJ was dead. MJ actually stayed in limbo the rest of the series, though in the final episode, Peter seeks to find her with the company of the otherworldly Madam Web, alluding that they will eventually be reunited. The cancelled 6th season of the series would have had the duo traveling through time searching for her; occasionally coming across a familiar face (Carnage was rumored to be Jack the Ripper during this arc).
The Ultimate incarnation of Gwen also met a demise of her own, but a far different one. She became the victim of the mindless creature known as Carnage, who sucked her dry of her bodily fluids, leaving nothing but a dried up corpse behind. Gruesome, but not quite as impactful.
But I digress. The final issue of this column is "The Goblin's Last Stand," in which Spider-Man hunts down the Goblin through New York for revenge. Throughout we see glimpses of the impact Gwen's death has on family and friends, though none are as impactful as the opening with Spider-Man cradling her body in his arms.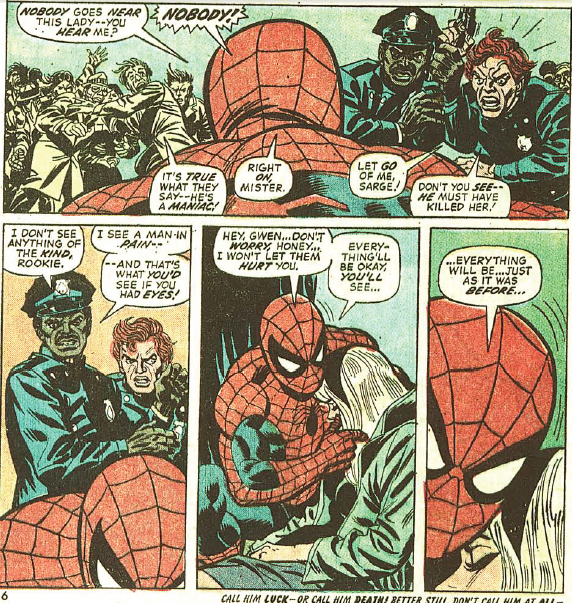 Spider-Man's final confrontation with the Goblin also leads to death. Spider-Man is starts out merciless toward his foe, but holds himself back at the end, not wanting to be a murderer himself. In the end, the Goblin tries to take Spider-Man by surprise, sneaking his glider up behind Spider-Man, only to have Spider-Man duck at the last minute, leaving the reader with an image just as impactful as Gwen's demise.
This brilliant two issue story ends with some foreshadowing that was either intentional or unintentional, as the first person Peter finds to comfort him in his time of mourning is the normally wild and unserious Mary Jane Watson. Peter shares some harsh words with her and asks her to leave, and then she does the most mature thing she has done in the series so far…
…and doesn't. As Spider-Man's story progressed, Mary Jane would eventually become "the one." Peter would share his identity with her (she actually knew he was Spider-Man even before her first appearance, but that's another story entirely), and they eventually get married and have a child (in main continuity the child dies, but in What if…? continuity, she spawned her own series as Spider-Girl). Currently the two have separated as the next step in Peter's love life awaits to be taken.
But the comic community will never forget the damsel that wasn't saved, and hopefully as Gwen is reintroduced to audiences through the new feature, she'll be remembered for far more than that. Gwen will forever be an important part of Spider-Man lore, not only because of her death, but because she is the biggest question mark lingering over Peter's head. What if she hadn't died? Could he have found happiness and peace with her?
History shows that even if Gwen had lived, Spider-Man was always destined to be miserable, just to keep the story interesting. However, we all can't help but feel his happily ever after died on that bridge the same day she did. But her memory will live on through Peter and through the fans.