Post by Joker on Apr 24, 2013 0:50:47 GMT -5
For XBOX 360, PS3, PC, and Nintendo Wii U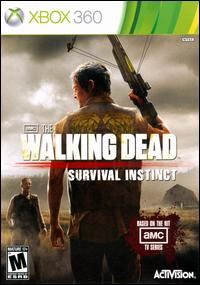 Out in the wilderness of Georgia, Daryl Dixon (Norman Reedus) is on a hunting trip when his father is attacked by walkers. The zombie apocalypse has hit and now Daryl has to gather other survivors to gather supplies and go rescue his brother Merle (Michael Rooker).
You play as Daryl in this first person shooter/melee game. Unlike the other game you don't have to watch what you say to people to build relationships. There's lots of action - lots of repetitive action. You have to sneak up on walkers and knife 'em in the head if you want to survive longer. Opening up on zombies with firearms will draw more of them to you as they suddenly stumble into wherever you are (mostly behind you) when you try to squeeze off headshots. It must get better when you get his trademark crossbow, but I haven't gotten that yet.
The one thing you seem to need the most is fuel for whatever vehicle you've got at the time. Taking certain roads can reduce the amount of fuel you use and increase how many stops you have to make for one reason or another. The fighting is really repetitive as you have to keep hitting walkers in the head with melee weapons. Thankfully they start to get more efficient as the game goes on. Other survivors that you pick up will find supplies for you, but you can only fit so many in your vehicle and they wear out. They don't do much else though.
So in this
Call of Daryl
game Daryl is who you play as and he can get hurt by walkers since they like to hit you until you run out of health and then they put the bite on you. Daryl can heal himself with commercial MREs and sports drinks (because in a stressful situation where your nerves are getting worked it's always good to guzzle something full of caffeine).
It's tough as walkers will grab you and then you have to aim a shaky targeting reticule in a certain place to stab them in the skull. Then there are certain situations where taking them on is unavoidable since they will attack you en masse. Other times you have to memorize where a mass attack is going to happen so you know exactly where to run away to. Expect to get eaten a lot.
I guess it's hard to play a FPS where the enemy doesn't do all that much other than hit you and you can really only do melee attacks to survive. Over and over again. It's not like the shifting objective system in COD games where there's a lot to accomplish in a mission. Also, there is no save point system in levels if you decide to turn off the game for a while. You will have to start the whole mission again from the start.
It's pretty mediocre and not all that spectacular.