Post by Triple_sSs on Jul 6, 2013 13:42:18 GMT -5
Hey guys, I've been working on a little project this 4th of July weekend which I want to share, and I just finished making a recreation of good ol' Joel in a video game I like!
Though I don't really play games that much these days, back when I was a teen I was rather obsessed with playing The Sims 2. If you're not familiar with the game series, it's basically a people simulator where you make your own people and houses and you control how they live their lives. Might not sound like much, but it's actually pretty fun. I used to make all kinds of "Sims" with the game, but eventually my interest in the game waned and sooner or later I just kinda stopped playing. Though they did come out with a third sequel not too long ago, I haven't played that one as much either.
So these days, I've now got a big obsession with MST3K as you'd probably guess. And a few days ago, I remembered the game disk of Sims 3 I have sitting on my desk, collecting dust, and thought,
"Hmm...does this game have any jumpsuits?"
I loaded the game back up, first time since last fall, and after a little searching, there is indeed a white jumpsuit that sims can wear as a career outfit.
"Alright, can I change the color to red and add the Gizmonic patch?"
Searched the web, and there are also tools for making "custom content" for the game too.
"Okay then, I think I'll make Joel!"
And after a little patience and elbow grease, here's what I came up with: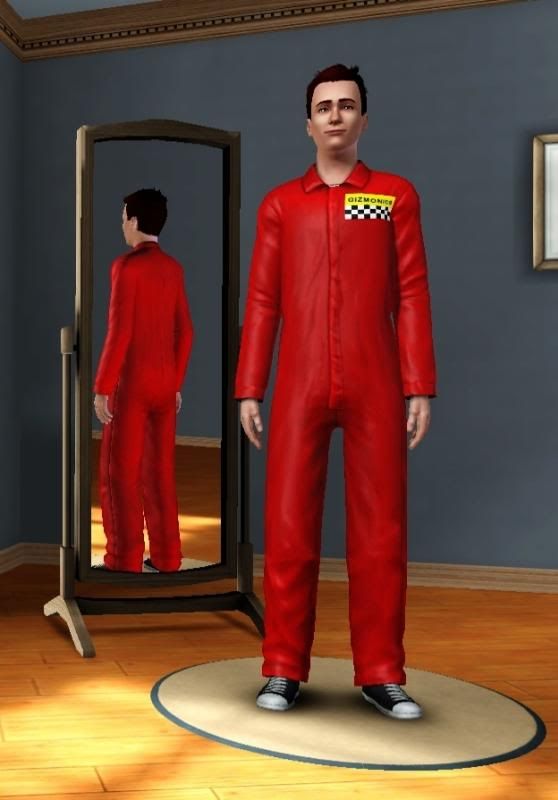 Not too shabby eh? I used Photoshop and a program called TSR Workshop to make the jumpsuit.
Close-up of his face:
Yeah, I know he may not look
quite
like the real Joel, but there's only so many facial features I can adjust in this game. I think I did pretty good all things considered.
Now a few screenshots after I moved him into a house: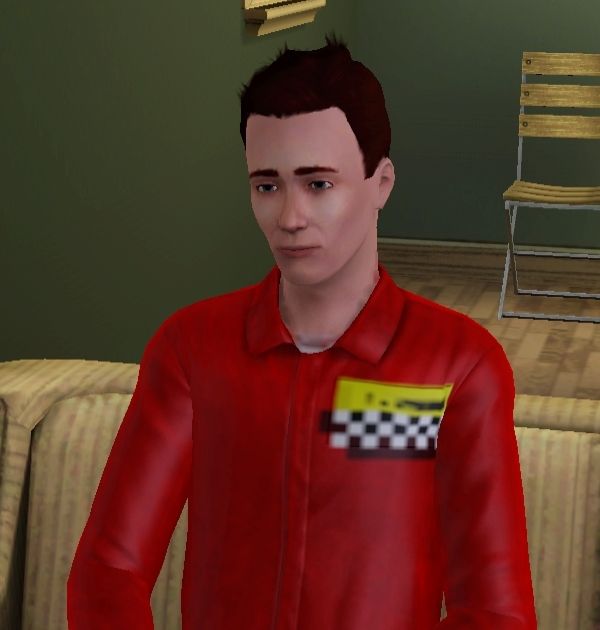 Sometimes the Gizmonic patch would look funny like this, but I'll try to get that fixed.
Also, the previous game had these robot servants called "Servos", which someone remade for Sims 3, so I thought it'd be good for Joel to have a robot pal with him. It's not
Tom
Servo, but close enough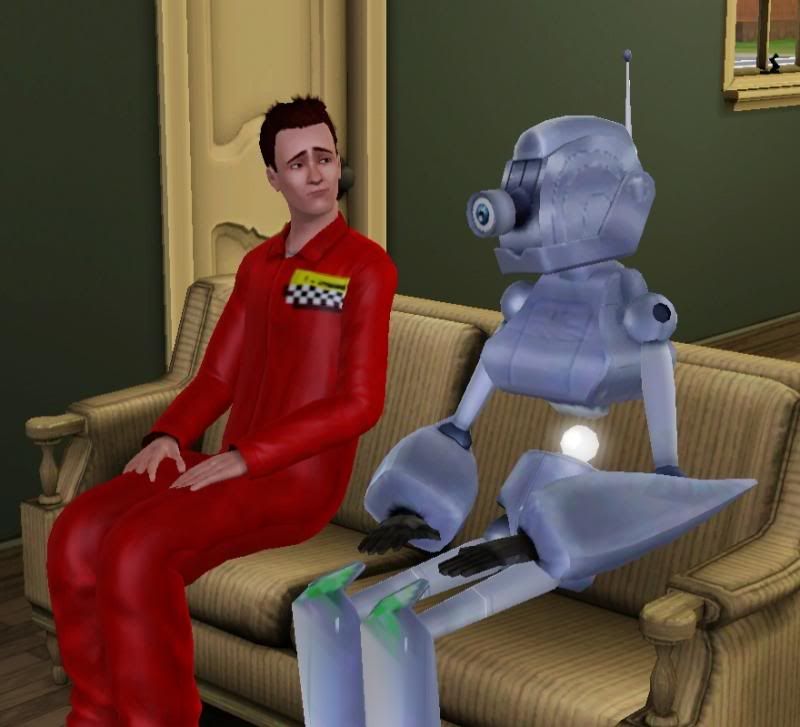 So yeah, I think I did a good job on making a digital version of Joel. I'll probably get some more (and better looking) screenshots soon and then upload him to
Mod The Sims
, a popular custom content site. And if the people there like him enough, maybe I'll even consider making a Mike!
What do ya think so far...sirs?