Post by solgroupie on Jul 24, 2009 15:41:20 GMT -5
TABLE OF CONTENTS
page 1: introduction to chaplin
*poor beginnings
*family
*karno's speechless comedians
*coming to america
*keystone - the birth of the tramp
*making a living
*chaplin directs
*tillie's punctured romance
*the essanays - the tramp, work
*liberty bond tour
*brother sydney
page 2: *the mutuals - the floorwalker, the fireman, the vagabond, one a.m., the count, the pawnshop, behind the screen, the rink, easy street, the cure, the immigrant & the adventurer
*first national films - building his studio
*the films - a dog's life, the bond, shoulder arms, sunnyside & a day's pleasure
page 3: *the kid, the idle class, payday
*birth of united artists
page 4: *first national films, continued - the pilgrim, a woman of paris, the gold rush (1-3)
page 5: *the gold rush (4-6), the circus, city lights (1-4)
page 6: *city lights (5)
*post city lights, pre-modern times (I&II)
*modern times (1-3)
page 7: *modern times (4-6)
*the great dictator
*chaplin's 121st birthday -
the tramp vs. the dictator
page 8: *the great dictator - parts IV & V
*i'm only sleeping - video tribute to chaplin
*the calm before the storm
*chaplin, trials & tribulation, part II
* video - chaplin on july 4th
* chaplin on trial II
*
oona's veil
*
a thief catcher
announcement
*release date set for restored keystones
*the making of
monsieur verdoux
page 9 -
monsieur verdoux
- 1-6
*restored keystones available
*chaplin - time traveler in
the circus??
page 10: *announcement of the charlie chaplin comedy film
festival in ireland
*limelight, parts 1-5
page 11: *limelight, parts 6-9
page 12: *chaplin's 122nd birthday; the google tribute
to chaplin
*chaplin's last days in america, 1-3
* a king in new york, parts 1-
in hopes that this thread will be an appropriate outlet for my chaplin obsession, i wanted to go through his abundant career and pick and choose some of his well known films, as well as some of his lesser known, less appreciated works. there's no way i could put everything i would like to say about chaplin in one effort, so this will be a work in progress, and any comments, criticisms or additions are more than welcome. except for the part about criticisms.
to be able to fully appreciate chaplin's talent, you have to know where most of his inspiration came from, and that was during his tumultuous youth. he was born in 1889 to parents charles chaplin sr. and hannah hill. both were entertainers in the english music halls, chaplin's father being the more successful one, though his eventual alcoholism would kill him at the age of thirty-seven. hannah was a great inspiration to chaplin, but after losing her voice one too many times on stage, she gave up the business and took in sewing to support charlie jr. and her firstborn, sydney, charlie's half brother. one of the best scenes in the 1992 film
chaplin,
is when they show a five-year-old charlie take the stage to sing after his mother's voice disappears and she is forced to leave the stage. i say "forced," meaning people were
throwing
things at her. but natural-born entertainer charlie went out and sang, charming the volatile audience into throwing money on the stage for him.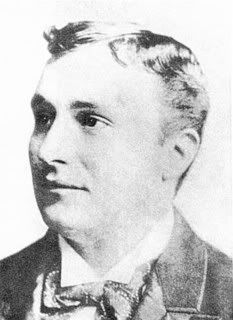 charles chaplin sr.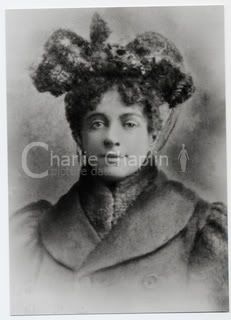 hannah
there are many stories here of chaplin's youth - of moving from place to place with his mother and brother, going hungry, being forced to live in the london workhouses while his mother began her descent into a debilitating mental illness, to charlie living on the streets, taking odd jobs in order to survive. all before he was ten years old.
he eventually turned to performing in the english music halls, like his brother sydney, like their parents. this was just a way to make a living for many people in those days - i understand mary pickford got her start in show business the same way. it was frequently not glamorous, nor very profitable. one of the reasons so many of these music hall performers became alcoholics (like chaplin sr.) is because they were expected to spend much of their wages on drinks with the patrons after the shows, in order to encourage business.
chaplin spent two years touring britain with "the eight lancashire lads," as a professional clogger. from there, he worked a number of odd jobs. but on some level, chaplin knew he was meant for something else. he was quoted as saying in his autobiography, "i had been news vendor, printer, toy maker, glass blower, doctor's boy, etc., but during these occupational digressions, like sydney, i never lost sight of my ultimate aim to become an actor."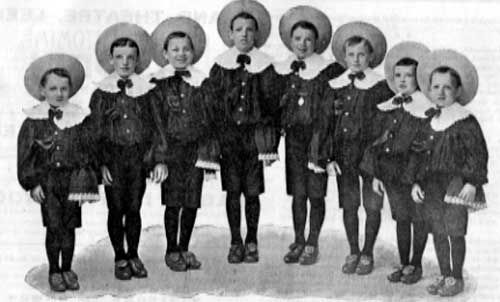 the lancashire lads - your guess is as good as mine as to which one is charlie.
at the age of fourteen, chaplin won the role of billy the page in the touring production of
sherlock holmes
, and critics immediately noticed his talent. for more than two and a half years, chaplin learned the ins and outs of theater life, and in 1908 sydney got him an audition with fred karno's speechless comedians. though karno wasn't very optimistic for charlie's chances (he thought he was much too shy to perform), charlie was playing leading roles within a few weeks.
It was when the karno company began touring america in 1912, chaplin's life changed forever. he fell in love with america, learned even more about his trade and attracted the attention of mack sennett, founder of keystone film company.
chaplin (in center of lifesaver), with fellow karno performers, en route to america, 1912
up next: chaplin's rise to fame