Post by Torgo on Dec 30, 2010 14:11:22 GMT -5
1934
Ted Healy and the boys ran their contract with MGM up in 1934. While Healy decided to stay on with MGM, his Three Stooges decided it was time to part ways. The reason has been attributed to Healy's alcoholism and abrasiveness. Healy would go on to considerable success without the trio backing him up. But while Healy would build a career, the trio, now named "The Three Stooges," would build a legacy with what was yet to come.
Immediately afterward, Moe, Larry, and Curly signed a contract with Columbia Pictures. The studio head, Harry Cohn, loved their act and had promised them consistent employment as long as he was in charge. However, while the boys were interested in taking their act to headline feature motion pictures (like fellow comedians Laurel and Hardy and the Marx Brothers), Cohn insisted that their act was better suited for short subjects, with a film cameo on the side. He offered them a good salary of $600 a week and sent them to the short subject department, where they started getting to work on one of the most successful short subject careers in the business.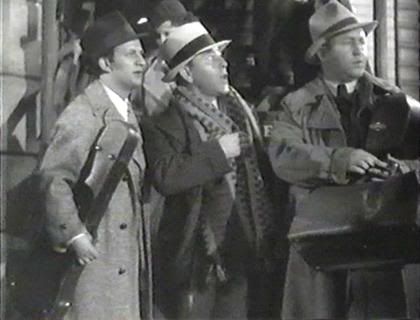 Fugitive Lovers
New York dancer Letty Morris (Madge Evans) has been refusing the advances of "Legs" Caffey (Nat Pendleton), a local gangster, and after she is literally drug off the stage by him, she decides to leave town for Hollywood and leave him behind. Legs, however, won't see her leave so easily and sneaks on the bus and sits beside her.

As the bus travels beside a penitentiary, a shootout occurs. Prisoners are escaping! One of them is Paul Porter (Robert Montgomery), who manages to make it out alive. Further up the road, he halts the bus by blocking the road and steals a suit from the cargo of Withington (Ted Healy), a loudmouthed passenger with zero tact. Hiding in the cargo hold until the next stop, Paul sneaks on the bus and claims his name is Steve Blaine. Letty sits next to him in an attempt to escape Legs, but only succeeds in sending Legs into a jealous rage.

At the next stop, Legs discovers who Paul really is by seeing his prison jumpsuit sticking out of Withington's luggage. Hearing Withington brag about a suit that matches exactly what Paul is wearing, he puts the clues together and tries to blackmail Paul into leaving the bus. But the cops swarming the area convince Paul he needs to stay on it.

Legs, still trying to get Paul off the bus, tries to work over Withington and attempts to get him to check his luggage. However, before he con, Withington is picked up by a group of buddies and decides to go drinking instead. Upon seeing that Withington has left the bus, and knowing it's only a matter of time before he finds his suit missing and a prison jumpsuit in its place, Paul flees just before the police arrive to search the bus.

Upon the next stop, Letty finds that she doesn't have enough money to get to Hollywood. However, getting close to Letty on the bus, Paul knows of her woes and follows her. Paul gives her the cash she needs to continue, however, Legs gets wind of Paul's presence. Paul, aware of Legs, however calls the police and tells them that Legs is Paul. Upon being taken into custody, Legs prepares to sell out Paul, but upon looking into Letty's sad eyes, he takes the fall for it.

The bus continues into an overnight stop that is covered in snow. Paul continues to follow Letty and tells her he's going to make a getaway before he gets caught. Letty comes with him and they steal a bus to make their escape. However, they come across a snow covered bus filled with kids and risk their lives to help them survive. When help arrives, Paul is finally caught.

In prison, Paul is visited by Letty, a detective, and a child they saved, and is presented with a presidential pardon.

Moe, Larry, and Curly play passengers on the bus.

Fugitive Lovers
has charming elements, but ultimately fails to live up to its own potential. The film is horribly acted, features some of the most shoddily overdone directing I've seen, and can't seem to get the hang of balancing comedy and drama.
Yet, it was fun to watch for about 40 minutes or so. For a while, it was an entertaining character movie about people interacting on a bus trip, one of them holding a dark secret. Movies like this get a lot better, but this movie had its own pep to make it work.
After a while, too many absurd twists begin to fill the movie up and it just winds up preposterous. I didn't believe for a second that Legs would take the fall for Paul, after being a horse's ass the entire movie (let alone to get arrested and held in custody for God knows how long). And Paul following Letty around like a love sick puppy dog was just him begging to be caught. And the finale with ridiculous challenges for our protagonists piling up on their laps just became tedious.
By the end I was wondering just what did Paul do to earn a life sentence in prison. The movie tries to portray him with a good heart, but they just wouldn't hand a sentence like that out for a parking ticket. Or maybe I'm underestimating the power of Letty's hypnotic puppy dog eyes, which seem to have the power of men doing her bidding. Maybe the final act of the film was all her doing.
Ted Healy and the Stooges are separated, for the most part. They ride the bus in question, but have no interaction with each other. Healy is decent as a loud mouthed passenger that likes to converse with people and the Stooges get a lot of laughs as a musical group named the Three Julians. My favorite gag involves Moe suddenly waking up to a fear that he has lost his voice, so he stands up in a flash and gives a loud musical bellow that effectively wakes everyone up.
After a while, the entire group exits the movie and the poor film is left by itself to collapse under its own weight. Our boys exited this bus at the right time.
Notes:
Robert Montgomery was the father of Elizabeth Montgomery, who would later go on to international fame playing Samantha Stevens on the sitcom Bewitched. Elizabeth was actually born during the production of Fugitive Lovers. Robert would have his own primetime success, however, as creator and host of Robert Montgomery Presents throughout the 1950's, spanning over 300 episodes in 8 years.

Curly is credited as "Jerry Howard."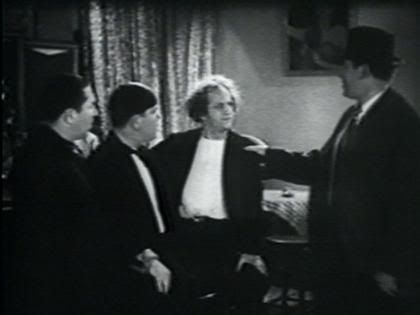 Hollywood on Parade
Ted Healy, Moe, Larry, Curly, Bonnie Bonnell, Jimmy Durante, Harry Revel, Mack Gordon, Ben Turpin, and others mingle at a night club.
Exploitive Hollywood worship pieces hold very little interest for me, and
Hollywood on Parade
is no different. The film has no other purpose than to make its audience stare at the stars they admire and feel that Hollywood is heaven on Earth.
The short tries to be humorous and give a smile, but seems to mistake disjointed nonsense for humor. Jimmy Durante suddenly shouting out "I gotta see a man about a dog!" isn't funny.
Even Healy, Bonnell, and the Stooges struggle to make their single gag work. Unfortunately, they're only here to walk on the screen, slap each other a few times, and leave. This is probably one of the most pathetic appearances they've ever done.
Highlight of the short is probably Harry Revel and Mack Gordon on stage singing "Did You Ever Hear a Dream Walking," which is a soothing way to end the short. Ben Turpin gets a few laughs as a bartender, as well. Still, I have to say I was thankful when this long 5 minutes was over.
Notes:
Hollywood on Parade is not a single short, but a series of shorts. The production number given to the short in question is B-9.

Because the Hollywood on Parade series started in 1932, for a long while this short was mistaken for a 1932 short, and film historians had mistakenly labeled this short as Curly Howard's first appearance on film. That has been corrected in recent years, and Curly's first appearance is now confirmed to be Nertsery Rhymes.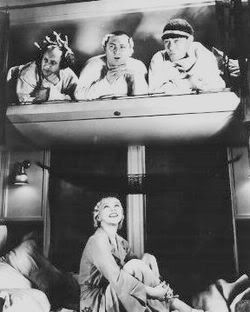 Woman Haters
Timmy (Moe), Jackie (Curly), and Jim (Larry) join the Woman Haters Club, where hurt men vow to not have anything to do with women as long as they shall live. However, a week later, Jim reveals to Timmy and Jackie that he has fallen in love with a girl named Mary (Marjorie White) and intends to get married. Angry at Jim, they make him promise not to go through with it. However, upon meeting Mary's father and alluding to his plans of leaving Mary, her father threatens Jim and he is forced to get married anyway.

Mary and Jim take the train for their honeymoon, unaware that Timmy and Jackie followed them. Timmy and Jackie take Jim away from Mary and scold Jim for breaking the vow of the Woman Hater. Mary hears the entire conversation and becomes furious. She then begins to corner Timmy and Jackie any way she can and flirts with them, forcing them into breaking their vows as well.

Years later, however, Timmy and Jackie are still members of the Woman Haters Club. Jim shows up on their doorstep, ready to join again.
Columbia Pictures' first Three Stooges short is a very different offering from the trio. The short is done entirely in rhyme, and its musical nature kind of holds the Stooges back from going all out with their slapstick.
That said
Woman Haters
is not a total loss. It's a charming, lighthearted story. Its plot never really gets going, though, and it grinds to a halt usually so its main characters can deliver way too much dialogue in rhyme. Because of everyone speaking a mouthful in order to say so little, no reason is ever given as to why Timmy, Jacky, and Jim hate women so much. It's doubtful that they really want to swear off the opposite sex when they keep hounding them throughout the short, as well.
Marjorie White steals the show as Mary. She's a charming lead, and it's a pleasure to watch her outwit the Stooges. If there's ever a reason to watch
Woman Haters
again, it's for her alone.
Notes:
Woman Haters is scripted entirely in rhyme. This is because it wasn't ever really intended to launch a Three Stooges short subject series. Instead, it was apart of a separate short subject series called A Musical Novelty.

In the opening title card, Curly's name is misspelled as "Curley." This title card would be kept until 1936.

Unfortunately, the adorable Marjorie White was never really given a chance to build a career. A year after this short's release, she was killed in a car accident at the young age of 31. Woman Haters was her last film.

The man playing the head of the Woman Haters Club is Bud Jamison. Jamison would go on to become one of the Three Stooges most prominent supporting actors in the Columbia short subject series, co-starring in 50 shorts until his death in 1944.

The conductor that Timmy and Jackie convert to the Woman Haters Club is played by Walter Brennan. Brennan went on to be one of the most popular character actors of the time. Brennan is the first actor to ever win three Academy Awards. He won them for 1936's Come and Get It, 1938's Kentucky, and 1940's The Westerner. The only other actor who has also won three Academy Awards is Jack Nicholson.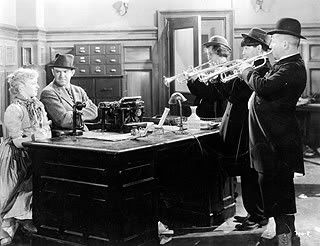 The Big Idea
Ted Healy, president and sole employee of Big Ideas Theatrical Productions, is working on the idea that will make him thousands of dollars! He tries to explain it to his wife (Muriel Evans) on the phone, but can't seem to complete it, as he is interrupted constantly by people storming his office for various reasons.

After he hangs up on his wife, he begins bouncing ideas off of a maid (Bonnie Bonnell), but she proves to be a bigger distraction than a help. But his wife catches them together and thinks he's cheating on her. So she takes a hammer and bops him on the head.

Moe, Larry, and Curly play musicians who constantly distract Ted.
What's
The Big Idea
? I don't know. I just watched it and I can't tell.
The Big Idea
has no idea.
The Big Idea
could so easily be a satire of Hollywood production and screenwriting, but goes the cheap and simple route. The short seems content on delivering sentence fragments and random gags. Ted Healy talks too fast without delivering a gag, and Bonnie Bonnell is simply horrible in what could have been a funny role. Even the Stooges are wasted in this short, and come in once every few minutes to play a musical instrument and squirt Healy in the face.
It's random gags like this that make up most of
The Big Idea
. The Stooges get a decent routine at the end of the short, but it can't be saved at this point. In the meantime, it "treats" us to a tedious sequence of radio routine and a pretty, but monotonous musical number.
Notes:
This is not only Bonnie Bonnell's final appearance with Ted Healy and the Stooges, but her final appearance in film altogether. I guess none of the studios saw much potential in her. Can't say I disagree.

The radio program sketch was a deleted scene from 1933's Going Hollywood. In the sketch, there is a brief glimpse of Amos 'n' Andy, a then popular radio sitcom about the lives of two black men. The radio series is infamous today for having all of roles played by white men.

The musical sequence is from a deleted scene in 1933's Dancing Lady (also co-staring Ted Healy and the Stooges).

The Three Stooges are credited as "His Three Stooges" in the film, marking the only time in an MGM short they've been referred to as the Three Stooges. Underneath this billing, they are still credited as "Howard, Fine, & Howard."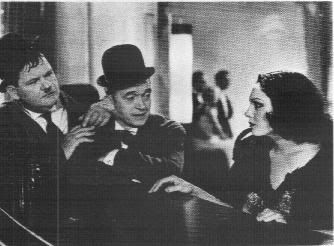 Hollywood Party
When it begins to look as if Jimmy Durante's latest
Schnarzan
picture will flop at the box office, the studio head decides what they need are wild lions for Durante to square off against in the next picture. As luck would have it, the Baron Munchausen (Jack Pearl) has returned from Africa with a couple of lions in tow!

In an effort to convince Munchausen that he should sell the lions to their studio, Jimmy throws a huge party in the Baron's honor, and everyone in Hollywood is invited! There are many outrageous shenanigans and goings on at the party, but ultimately upon the Baron's arrival, Jimmy loses the lions to another studio.

Jimmy then intends to woo the wife of the competing studio's president in an attempt to get her to let them use the lions. However, during this exchange, at the party downstairs, two party crashers (Stan Laurel and Oliver Hardy) come in search of the Baron, claiming he bought the lions from them with a bad check. The two are chased out of the party into the yard, where they jump on top of the lion cage and release the two beasts, ensuring their getaway. Jimmy, unaware of this, is busy telling a story to the woman he is charming. This story is about how he killed a lion with his bare hands. The real lion sneaks up on Jimmy, but Jimmy jumps him, still into his story. The two wrestle down the stairs…

Jimmy is woken up by his wife. It was all a dream. And they are late for a big party.

Ted Healy, Moe, Larry, and Curly appear uncredited as autograph hounds trying to meet celebrities.
What it lacks in plot it makes up for in entertainment,
Hollywood Party
is a lot of fun to watch even if I doubt I'll remember it tomorrow morning.
The film plays out almost as a sketch comedy, with Jimmy Durante's plot playing the string that hooks random segments of party guests together. The funniest moments go to Jack Pearl, who is reprising his radio personality of Baron Munchausen.
"This is the son of King Kong! His name…is Ping Pong!"
Laurel and Hardy get some strong laughs for their climatic bout with Lupe Velez. Ted Healy and the Stooges have a terrific scene in which a group of professors deduce their place on the evolutionary ladder. Mickey Mouse's cameo is gold, along with
The Hot Chocolate Soldiers
animated segment that follows.
By the end of its runtime, Hollywood Party runs very tired. It's a little sad, since it's barely an hour long, but it has enough steam to keep its wacky situations going for such a short period.
Notes:
This is the final film appearance the Three Stooges ever made with Ted Healy. Their contract was up with Metro-Goldwyn-Mayer, and the group decided to go their separate ways. The Stooges new endeavor for short subject features was already up and running at Columbia and the first of which, Woman Haters, had already been released.

Stan Laurel and Oliver Hardy were popular comedians of the silent era, and two of the few that successfully made the transition to sound films. To this day, they still remain quite popular among fans of classic comedy.

Mickey Mouse is a popular cartoon character created by Walt Disney. The success Mickey Mouse cartoon series is often held responsible for the building of Walt Disney Studios which soon became the top animation studio in the business. Mickey's appearance in Hollywood Party is a bit of an oddity, since Hollywood Party is an MGM feature and was in competition with Disney. In addition to Mickey's appearance, Disney also agreed to supply an animated sequence. This sequence is the delightful The Hot Chocolate Soldiers (which is reminiscent of Disney's Silly Symphonies series). The sequence was made in color, as opposed to the rest of the film, which was in black and white.

For more information on Jimmy Durante and Jack Pearl (and his Baron Munchausen character), see the entry for 1933's Meet the Baron.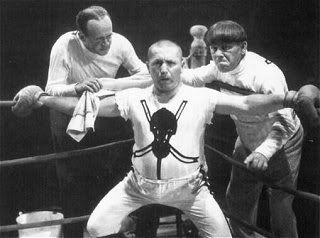 Punch Drunks
Boxing manager Moe is eating at a restaurant with his top fighters. Their waiter is the soft-spoken Curly, who wouldn't hurt a fly. However, when a hired violinist named Larry starts playing "Pop Goes the Weasel," Curly goes nuts, and starts punching out all of Moe's top fighters. Impressed by the lad, Moe instantly takes this future champ under his wing and Larry along for the ride.

Curly becomes K.O. Stradivarius, an overnight boxing sensation!

Curly works his way up to the heavyweight title, and is now up against the current champion, Killer Killduff (Al Hill). As soon as the fight starts, Curly is knocked out of the ring and lands on Larry, breaking his violin. Desperate for a new source of "Pop Goes the Weasel," Moe sends Larry off to find something that will help before Curly gets killed. After a search of the entire town, Larry finds an election campaign truck playing the song. Hijacking the truck, Larry crashes it into the side of the building holding the fight. Upon hearing the music, Curly goes crazy again and wins the fight!
One of the Stooges earliest Columbia shorts proves to be a bar to which all of their shorts must be judged.
Punch Drunks
is a blast of relentless energy and brilliantly executed slapstick.
The short quickly establishes the Stooge formula: Moe the leader, Larry and Curly the followers. Once they come together great things will happen. In the case of
Punch Drunks
, Moe barks orders to comical effect and Larry and Curly best follow them. Larry's desperate search for "Pop Goes the Weasel" at the end of the short is a prime example, as he runs wildly around town looking for a tune he might never find, but does so because it's Moe's order. Curly demonstrates some great slapstick in the boxing ring while getting a beatdown by Killer Killduff. I split my sides laughing when Curly tries to escape the ring screaming "Timeout! TIMEOUT!"
The comedy isn't limited to the Stooges, either. There's a great run-on gag in the final fight in which a child throws candy at the round bell, much to the timekeeper's annoyance. The childlike disintegration of a grown man to in so little time couldn't have been done more beautifully.
Punch Drunks
is a true Stooge classic. I still hold it up as one of their very best.
Notes:
Moe came up with the story for Punch Drunks and personally sold the idea to Columbia. Because of the strength of the idea, the short was immediately put into production and the Stooges started working regularly in the short subject division. This is the only short in which Moe, Larry, and Curly (as "Jerry Howard") were ever credited as writers on. The group did script work on just about every short they did, but if they were credited for it, they would have had to have been paid more. Instead of putting up the dough, Columbia made sure the Stooges never received script credit again.

The original title to the short was A Symphony of Punches. The eventual title, Punch Drunks, was a play on the term "punch drunk," which describes a boxer who's been hit so many times he has trouble standing up.

Larry puts his skills as a violinist to good use in this short. That's really him playing, and it wouldn't be the last time he'd play it in the Stooge series either. One of the songs Larry plays (during the "Stroke!" scene) is "Let's Fall in Love!" This song would be sung by Muriel Landers and Joe Besser in the 1958 Stooges short Sweet and Hot.

The song that was originally to be used to send Curly into a rage was "Stars and Stripes Forever." However the studio did not want to pay royalty fees for its usage. "Pop Goes the Weasel" was selected for its public domain status.

Curly has gone into a fighting rage in three other shorts, all for different reasons. These are 1935's Horses' Collars, 1937's Grips, Grunts, and Groans, and 1938's Tassels in the Air. The theme of "Pop Goes the Weasel" driving a Stooge mad was later revisited in 1963's The Three Stooges Go Around the World in a Daze, but with Joe DeRita instead of Curly.

During the climatic fight between Curly and Killer Killduff, stock footage was used for the crowds. Two men can be caught flipping the bird in the footage.

A Three Stooges video game in 1987 had a boxing level based upon this short.

In 2002, Punch Drunks was selected for film preservation by the Library of Congress.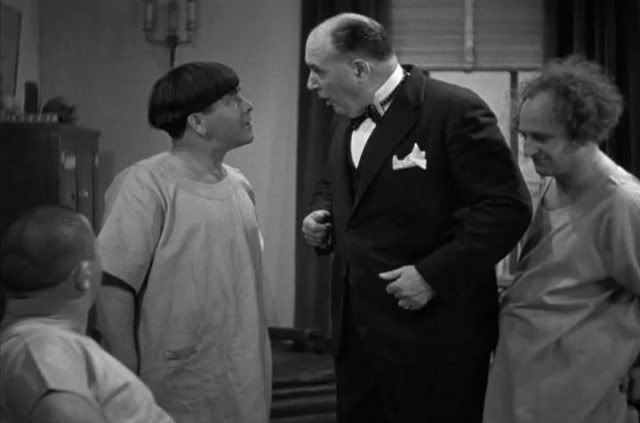 Men in Black
Dr. Howard (Moe), Dr. Fine (Larry), and Dr. Howard (Curly) finally graduate medical school. Not because they passed, but because they've been there so long that the school just wanted them gone.

"For duty and humanity!"

Dr. Howard, Dr. Fine, and Dr. Howard get called on multiple cases, ranging from a little woman sick in bed ("Little Billy" Rhodes) to an insane man (Billy Gilbert) and even the head of the hospital swallowing the combination to his safe (Dell Henderson).
One of the Stooges most popular shorts,
Men in Black
is one I've never particularly been impressed with. There's really not much to it. Somebody just found the occupation that the Stooges could do the most damage in and watched the chaos ensue.
Laughs are present ("Will I get better?" "Well I'm truly sorry, but I'm afraid you are."), but most of the short is nutty without bringing a chuckle. A nurse portrayed by Jeannie Roberts is an example. Her squeaky voice and punchline delivery is serviceable for the short, but leave much to be desired. The cases the Stooges run off to are more bizarre than all-out humorous.
Men in Black
puts a smile on my face, but I can't say much else about it.
Notes:
Men in Black is the only Stooges short to be nominated for an Academy Award for best short subject. It lost to a musical called La Cucaracha, released by R.K.O. Pictures.

The title is a spoof of the Clarke Gable film Men in White, which was released the same year.

A Three Stooges video game in 1987 had a hospital level based on this short.

Columbia Pictures would later use the title Men in Black for a 1997 science fiction film starring Will Smith and Tommy Lee Jones, based on a comic series with the same title.

The line "Paging Dr. Howard, Dr. Fine, Dr. Howard" became infused in pop culture after the release of this short, and has been referenced in multiple mediums since.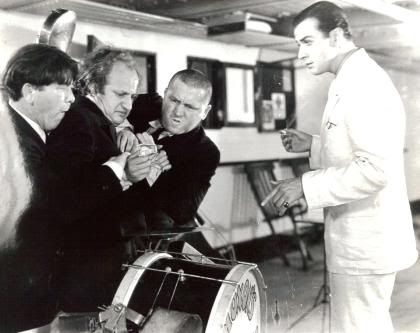 The Captain Hates the Sea
Captain Helquist (Walter Connolly) hates the sea, hates his ship, hates his crew, and hates his passengers most of all.

The latest group of people getting on his nerves includes an alcoholic screenwriter (John Gilbert), a Spanish revolution general, and two fugitives eluding a private detective.

Moe, Larry, and Curly play musicians at dinner service.The Captain Hates the Sea
is a piece of character interaction over plot. Throughout the movie I struggled to find a story but ended up empty handed.
The film thrives on dialogue scenes where the characters of a cruise ship talking animatedly or hiding their misdeeds. By the end of the cruise, none of them seem any different than when they started. There are worse crimes a movie can make, but I'd like to argue that when I give an hour and a half of my life to a movie, I expect something to happen. The only points that garnered any interest at all were the tragic end to a likable Spanish soldier's story and the attempted suicide by a depressed woman. Both of which end rather abruptly and are quickly lost among the rest of the film's too many characters.
The Three Stooges are only in two scenes and are for decoration only. Their brief role is to play musical instruments at a party: Moe on saxophone, Larry on piano, and Curly on bass. The only one that gets a line is Larry.
I find myself very indifferent to
The Captain Hates the Sea
. It doesn't do anything wrong to warrant hatred, but it doesn't really do anything all that well either. It's just kind of a time waster for those who like character pieces. It might annoy those who like character development, though.
Notes:
John Gilbert was one of the most popular leading men of silent films. However during his tenure at Metro-Goldwyn-Mayer, he frequently clashed with MGM head Louis B. Mayer and was the subject of alcoholism. Once films began taking off with sound, Mayer started tampering with Gilbert's recordings and spread untrue rumors about his voice being unsuitable for talking pictures, effectively ruining his career. Gilbert attempted to bounce back, however a lifetime of alcohol took effect on Gilbert's health and he died of a heart attack in 1936. The Captain Hates the Sea was his final film. Ironically he played an alcoholic that was trying to quit drinking.

The Captain Hates the Sea went far over budget due to the alcohol consumption of the cast and many nights of wild parties. Columbia head Harry Cohn sent a cable to director Lewis Milestone which read "Hurry up! The cost is staggering!" Milestone replied "So is the cast!"

The music that the Three Stooges are playing in their first scene was reused in the 1935 short Horses' Collars.

The exterior footage of the ship, San Capeador, was reused in the 1949 short Dunked in the Deep.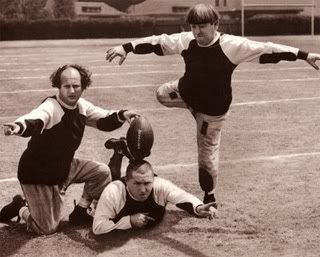 Three Little Pigskins
Moe, Larry, and Curly are beggars who wind up working for a local college promoting their football games. Dressed up in football uniforms, the trio parade across town with signs. They run across a lovely girl (Phyllis Crane) who happens to be in league with gangster Joe Stack (Walter Long), who just happens to be looking for football players to ensure a victory for an upcoming game. Due to the uniforms they are wearing and the college they are advertising, the girl mistakes the Stooges for "The Three Horsemen," a trio of college football players that have made a big name for themselves. She invites them up to her place, where they meet her two beautiful friends (Lucille Ball and Gertie Green) and the boys immediately begin wooing.

Not long after, Joe returns with his two buddies (Dutch Hendrian and Roger Moore…no not that Roger Moore) to find the Stooges making the moves on their girls. They chase the Stooges around the building, until one of the girls explains to them that they are the Three Horsemen. Joe then makes the boys a proposition, and with the promise of money and their lives, the Stooges agree.

Once on the field, the Stooges inexperience at football becomes apparent, and they blow the opening quarter. Fed up with their nonsense, Joe and his thugs chase them off the field.
One of the best of the earliest Stooge shorts, in my opinion.
Three Little Pigskins
offers up a lot of bangs for your buck.
The short starts off promisingly enough, with the Stooges begging for change and playing Don Juan with three dames. Seeing the Stooges romance is always a treat. The short goes from good to great when the trio hits the football field, and display their unique sports abilities. I howled in laughter at Larry's attempt to "block" a kick. The group's cluelessness of what to do once they get the ball had me in stitches.
A great effort, all around. And knowing there will be much more of these in the future just makes my mouth water.
Notes:
Does one of those cute blondes look familiar? That's future comedy superstar Lucille Ball, pre-red hair dye. She would go on to have one of the top rated television shows of the 1950's, I Love Lucy, which she starred in alongside her then-husband Desi Arnaz. Ball had had a very successful career afterwards, starring in various motion pictures and would return to television in two more popular sitcoms, The Lucy Show and Here's Lucy! When asked about her experience with the Three Stooges, she replied "The only thing I learned from the Three Stooges was how to duck." She then added "I still got wet!"

Three Little Pigskins was described by Moe Howard himself as a "humdinger of cuts and bruises." Larry had lost a tooth in a scene where he's punched by a gangster, and Curly had broken his leg riding down a dumbwaiter. Later in the short, there was seemingly harmless stunt scene the entire group just flat out refused to do: getting tackled while posing for a photographer. The football players used were real college football players and they all towered above each of the comic trio. Fearing that their short stature would prove more harmful than not, they begged for stuntmen. After much arguing with the short's director, Raymond McCarey, stunt men were finally brought in. Finally the scene was shot, and two of the three stunt doubles were severely injured with broken limbs, as well as all four actors playing the photographers. The only actor spared was the stunt man playing Curly, and that was because of the extra padding he used to replicate the Stooges stomach. According to Moe, "McCarey was speechless and sat in his director's chair with his head in his hands."

The title of the short is a pun on the children's story The Three Little Pigs. The word "pig" was exchanged for "pigskin," which is a nickname for a football.

The phrase Larry says in Pig Latin is "What are you doing tonight?" The phrase Lucille Ball says in Pig Latin is obviously "No."

The Stooges football uniform numbers are H2O2 (Moe), ½ (Larry), and ? (Curly). Moe's uniform number is actually the periodic code for Hydrogen Peroxide, a chemical used as a disinfectant, antiseptic, and oxidizer.

In the final shot of this short, Curly's shirt is backwards.
Moe Howard appeared in the following shorts
Jail Birds of Paradise
(Short Subject)
Curly Howard appeared in the following shorts and films
Roast Beef and Movies
(Short Subject)
Jail Birds of Paradise
(Short Subject)
Operator 13
(Feature Film)
Shemp Howard appeared in the following shorts
How'd Ya Like That?
(Short Subject)
Henry the Ache
(Short Subject)
The Wrong Wrong Trail
(Short Subject)
Mushrooms
(Short Subject)
The Knife of the Party
(Short Subject)
Pugs and Kisses
(Short Subject)
Everybody Likes Music
(Short Subject)
Very Close Veins
(Short Subject)
Pure Feud
(Short Subject)
Corn on the Cop
(Short Subject)
Ramblin' Round Radio Show
(Short Subject)
I Scream
(Short Subject)
Art Trouble
(Short Subject)
My Mummy's Arms
(Short Subject)
Daredevil O'Dare
(Short Subject)
Smoked Hams
(Short Subject)
So You Won't T-T-T-Talk
(Short Subject)
Dizzy and Daffy
(Short Subject)
A Peach of a Pair
(Short Subject)
Ted Healy appeared in the following films
Lazy River
(Feature Film)
Operator 13
(Feature Film)
Paris Interlude
(Feature Film)
Death on the Diamond
(Feature Film)
The Band Plays On
(Feature Film)
Forsaking All Others
(Feature Film)