Post by Torgo on Dec 8, 2010 16:17:52 GMT -5
Well folks, I'm no Peter Graves, but if there's one thing in the world I know stuff about, it's the Three Stooges.
It's a project that I've been planning to do for some time, but one that I wouldn't have been able to do until very recently, thanks to Sony's terrific Three Stooges Collection sets, a careful eye on Turner Classic Movies, eBay and iOffer surfing, and even a few friends in the right places (I'm looking at you, skyroniter! A few of these entries wouldn't have been possible without your help!).
The original concept was a book to be published, but I didn't think fan sites on the web would have been strong enough a source, so call this a rough draft of a dream of mine. I present to you...
NYUK
A Biographic Filmography of the Three Stooges
[/b][/center]
At the dawn of mankind...
Legend tells of three ancient Neanderthals, related to all of man that lives today (whether you like it or not). These simple beings lived in harmony, surviving in simple ways and chasing females. One day, a bald, slightly overweight Neanderthal stole a rock his more aggressive comrade was smashing things with. Upset with his brethren, the aggressive one slapped the overweight one across the face. The third simplistic Neanderthal gave an unpleasant giggle at this event, causing the aggressive one, still annoyed, to poke him in the eye.
It was funny. And thus, humor was born.
Fast forwarding to present day, a group of men began slapping each other for fun. One of them wonders "Can we make a living off of doing this?"
And the legend continues...
It all began with four men…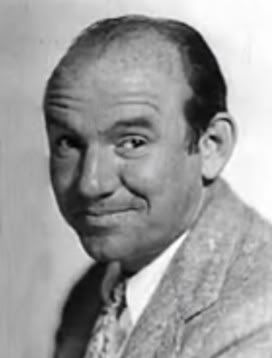 Ted Healy
The founding father of the Three Stooges, Ted Healy was a stage comedian through-and-through. Though, like most struggling vaudeville performers, the only way to earn a paycheck was to evolve from the dying vaudeville circuit and try to earn a living in motion pictures.
I imagine Ted was a lot funnier on stage than he was on film, as most of his comedic work on film has unimpressed me. A lot of his improvisational and rambling dialogue doesn't age well on film, and a constant mugging of the camera is always a source of being taken out of the moment. On stage such things are a joy, but in feature films it looks a tad sloppy.
Of course, one of Ted's faults might have been he was always standing in the way of the Three Stooges. I find myself more taken by Ted when he is either separated from the group (like in 1934's
Fugitive Lovers
) or just seems to be one of the Stooges entirely (like in 1933's
Meet the Baron
). Ted's idea for his character in relation to the Stooges is clever, as he plays dimwitted man with three cohorts he has taken under his wing, probably just to make him feel superior. While the Stooges proved that they didn't need such a character after their split with Healy, the grouping had a lot of charm.
Healy, however, was only sparingly funny, in my opinion. Something his partners in comedy were far beyond, since they often went an extra mile for a laugh. Meanwhile, Ted would usually just stand there, mumbling to himself some improved dialogue that is hard to hear. I haven't watched much of his work beyond his split from the Stooges, but I can imagine it only being better, since he doesn't have to keep up with their energy. Healy's performance in 1933's
Dancing Lady
is a standout, showing that he had dramatic skills. Maybe the Three Stooges were holding
him
back, in addition to the often attributed vice versa?
Born Charles Ernest Lea Nash (his friends knew him as Lee) on October 1st, 1896, Ted grew up in Houston, Texas. Showbiz was not Ted's first love; he instead tried his luck as being a businessman. When that didn't pan out, Lee fully adopted the theater as his future. Ted and his childhood friend Harry Howard (latter known as Moe) joined the Annette Kellerman Diving Girls in 1912, a vaudeville act that included Ted, Moe, and two other boys who played "girls" in the act. However, after an accident on stage, the boys quit the act at the end of the summer and went their separate ways.
Ted continued to work in vaudeville, first starting off in blackface. Ted's act was impromptu due to his inability to remember lines. He specialized in impersonations of Ed Wynn, Eddie Cantor, and Al Jolson, but his act wasn't paying off. Abandoning his birth name and amateur act, he then adopted the stage name of Ted Healy and became a professional comedian.
Ted's act was a hit, becoming not only a comedian, but the host and master of ceremonies of various vaudeville shows on the circuit. Ted added many fellow performers to his act, including a group of acrobats and a dancer/singer named Betty Brown, who became his first wife in 1922. At one time in Ted's act, he became the highest paid vaudeville performer of the day, earning as much as $8500 a week.
When a portion of his acrobats quit, Ted sent out an ad for replacements. The person who answered was childhood friend Moe Howard. But Moe had no acrobatic training. So Ted created a role in the act for him. Moe became a member of the group that would impersonate an audience member and get called up on stage. This role was called a Stooge...
Moe "Harry" Howard
On an episode of
The Simpsons
, Homer finds himself watching an old Three Stooges routine on television. He giggles to himself, and states "Moe is their leader!" That's about as accurate a description one could ask for.
Without organization, the lesser intellects of the Stooge team would have been lost. While Ted Healy filled this role when the Stooges were under contract with him, the trio needed a new one when they left him, and Moe rose to glory. Moe's character was the clueless buffoon who thought he knew exactly what was going on, which made him the natural lead to his fellows, who arguably knew even less than he did.
Moe's character was a grouch who was frustrated with the less than competent folk surrounding him, yet he lives in ignorance to the fact that he is no better. Yet this ignorance alone makes him the superior, which is the greatest joke about Moe. What should be his flaw ends up his strength, because he really is the only type of character that can bring order to the chaos that surrounds him. If he were smarter, or less aggressive, his fellow Stooges wouldn't listen to him.
On June 19th, 1897, Moses Harold Horwitz was born in Brooklyn, New York, the fourth child of Solomon Horwitz and Jeannie Gorovitz. Growing up Moses would come to adopt "Harry" as his name, but revert back to his birth name of Moe once his career got started.
Moe had a prodigious memory, and as such did very well in school. His memory proved to be an asset as a stage performer as well, being able to remember lines and cues with ease. Moe was an avid reader, and constantly borrowed his brother Jack's collection of Horatio Alger books, which chronicled adventures of impoverished children with small-earning jobs, such as bootblacks, newsboys, and peddlers. Jack claimed that Alger's books may have heavily influenced Moe in many ways. "They started his imaginative mind working and gave him ideas by the dozen. I think they were instrumental in putting thoughts into his head to become a good person and to become successful."
Moe's trademark haircut rooted all the way back to childhood. Moe had shoulder length hair due to his mother's wishes for a girl. Unfortunately, her wishes went unfulfilled, having given birth to five boys. Moe was teased relentlessly because of this and became so angered by his hair that he had a friend cut it into the bowl shape. After the deed was done, Moe was so afraid to show his mother that he hid under the porch of his house, causing his family to franticly search for him. When he finally turned up, his mother was so glad to see him that she never mentioned his hair.
Moe became fascinated by acting and theater, going to the theater so regularly that he started playing hooky from school. At the time, adults had to accompany children to the theater, and Moe asked strangers to buy his ticket and he'd pay him the ticket price. Moe loved to sit in the balcony and watch the show from first act to last, select the actor he liked the best, and studied him for the duration of the play.
Moe's poor attendance in school continued into high school, where he dropped out after two months, ending his education, he then began to concentrate on a career in show business. Moe ran errands at Vitagraph Studios for no fee, but was given bit parts in films being shot (his films were destroyed by a fire in 1910).
In 1909, Moe met Lee Nash, who befriended Moe and the two aspired to succeed in show business together, both getting roles as a part of the diving "girls" in Annette Kellerman's act. However once the boys quit the act, they went their separate ways.
Moe never stopped aspiring to be on stage, though. He and his brother Shemp tried to get noticed by singing nights at a bar with well received singers Babe Tuttle and Willie O'Connor, but their father put an end to it; and in 1914, he joined a performing troupe on the Mississippi River showboat. Moe had various other acting jobs as well, even performing in blackface with his brother Shemp and starring in 12 twelve more short subjects featuring baseball star Hans Wagner.
It wasn't until 1921 when Moe answered an ad for replacement acrobats in a stage act ran by a man named Ted Healy, who turned out to be Moe's old friend Lee Nash. While Moe wasn't an acrobat, Ted created a role for Moe called a "stooge," in which Moe would play a phony audience member who would be incorporated into the act. Moe steadily worked with Ted for several years, but during one show, he saw his brother Shemp in the audience...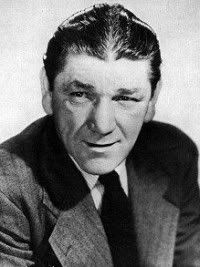 Shemp Howard
Shemp can be said to be the most versatile of the Howard Brothers, as he was the only one of the bunch that successfully had a film career outside of the Three Stooges. Outside of the Stooges, Shemp was not always the same character. While traits of his humor were often the same, his motives and morals were often much different.
Inside of the Three Stooges group, Shemp was a thick headed mug, and a bit of the series grunt. Shemp was probably the most likely of Stooges to stand up to the long time leader of Moe. Shemp often seemed like he felt like he knew more than Moe and was often thinking that it was only a matter of time before he was running the show.
What held Shemp back from this? Cowardice, mostly. Shemp's lack of courage is his downfall, often backing down from Moe after being glared at. Shemp also never could have kept his cool in a moderately creepy situation. Shemp is always the first to break down, even at the insistence of his companions that everything is OK.
Incidentally, outside the Stooges, Shemp had taken on the leadership role several times, playing the role all too similar to Moe. The short
Knife of the Party
is a prime example, where the sole Howard brother leads on his own group of Stooges onstage.
The handsome lad of Samuel Horwitz was born on March 4th, 1895, in Brownsville, Brooklyn, the middle son of five. Samuel took on the nickname "Shemp" as an in-joke, as his mother's thick Litvak accent was unable to pronounce "Sam" correctly. Moe explained "Shemp was given the Hebrew name Schmool. Schmool was Anglicized to Samuel and then shortened to Sam. When his mother, with her broad European accent, called him, the name 'Sam' came out 'Sams,' and if you weren't listening carefully it could sound like 'Shemp'...which it did! So from the time he was 7, that's what his family called him. It was Shemp in school and in the world of theater. In later years, no one knew it was anything else."
Shemp as a child was very mischievous. He would often stuff the woolen stockings and sweaters of his family members down the toilet, just for a laugh. One time he even tore out pages of his brother Irving's history book and put them in. Because of this, Moe claimed Shemp had to face the "family gauntlet," which contained a smack from mother, a belt to the head by father, a push by Irving, and a kick to the rear end by Moe himself.
By the age of 13, though, Shemp had outgrown his trouble-making ways. However old habits die hard. In 1911, he and Moe both took separate courses on plumbing and electricity, respectively. While neither finished their courses, they had taken what they had learned and put it to use. They used their combined knowledge to install a push button door latch under their front porch which unlocked the front door. However, their parents eventually found what was locking their door and removed it. Later that evening, Shemp and Moe returned home and weren't able to get inside. The two of them went around back and entered their home through the bathroom window, only to fall into a bathtub filled with water. Wearing the good clothes of their siblings, their awakened father was even more furious than usual.
Shemp never tried very hard with his schoolwork. He tried to concentrate, but ultimately found his attention wandering. When studying, he'd often brush lessons off with a smart aleck remark, draw silly pictures, or make other students laugh by making faces at them.
While never seriously believing he himself would ever go into show business, Shemp was very supportive of his brother Moe's endeavors in becoming a star, even joining him on several occasions. But Shemp had tried his hand at several different occupations before taking the stage roles seriously. One of which was a plumber, which he quit after burning his hand on a hot solder. Shemp had also tried working at a bowling alley and delivering newspapers, neither of which tickled his fancy.
Shemp then started to look toward the stage. But one of his earliest experiences had him thrown out of the theater three minutes into his act. Shemp was discouraged, but Moe thought it was a good start.
In 1923, Shemp was in an audience for Moe, who was appearing as a "stooge" for comedian Ted Healy. Moe spotted Shemp watching the act, and the two began to joke and interact. The crowd went wild for the two, and Healy invited Shemp to join the act, which Shemp was eager to do so. The act evolved into "Ted Healy and His Southern Gentlemen" and Moe and Shemp would adopt the last name of "Howard" for their stage names. But the act would evolve even further upon sight of an unusual violinist performing vaudeville in 1925...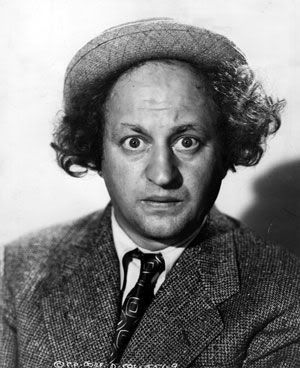 Larry Fine
Larry is the Stooge forever buried by his more energetic comrades. While it's true that Larry never stood out in the act the way Curly, Moe, or even Shemp did, to say Larry was entirely without merit is a downright lie. In fact, as the group aged and the pairing of Moe and Larry found themselves hiring outside comedians to take over the vacant roles Curly and Shemp left, it was arguably Larry's firmly established chemistry with Moe that kept the spirit of the Three Stooges alive. This alone proves how valuable he was to the team.
Larry was often the man caught in the middle. He was a character that was there mostly to react to harshness of Moe or the stupidity of Curly/Shemp/Joe/Curly-Joe, and he was there to enhance the gag with his own lightheaded comments. Often, Larry found himself picking a side between his two comrades: Moe, who he often agreed with when the various third Stooge had done something ridiculous, or Curly or the other third Stooge incarnations, in which he took the role as one of the oppressed ganging up on the bully. No matter which side Larry would take, Moe was often the victor of the battle. I guess this could mean that Larry's opinion means little, but his role as a sort of "Independent" Stooge is one to be admired.
Larry's role in the legacy of the Three Stooges was summed up rather well by writer/director team Peter and Bobby Farrelly (
Dumb & Dumber
,
There's Something About Mary
): "Growing up, first you watched Curly, then Moe, then your eyes got to Larry. He's the reactor, the most vulnerable. 5 to 14, Curly; 14 to 21, Moe. Anyone out of college, if you're not looking at Larry, you don't have a good brain."
Louis Feinberg was born on October 5th, 1902 in Philadelphia, Pennsylvania to jeweler Joseph Feinberg and his wife Fanny Lieberman. Larry was the eldest of four children, one of which died pre-maturely. To his family, Larry was always a superstar, claiming he was stealing the show even when he was in diapers. Larry's physical antics date back to when he was 2 years old, in which his father propped him up on a jewelry showcase so he could dance for his relatives. Larry slipped and fell through the glass of the display case. As horrible as the incident could have been, Larry was miraculously unharmed.
Far from the only accident of his childhood, Larry suffered a more serious injury later on. At his father's jewelry shop, Larry's father was testing gold with an acid. Larry, thinking it was a juice, tried to drink it, but his father caught him at the last minute and smacked it out of his hands. A bit of acid landed on Larry's left arm, burning him severely. Larry was rushed to the hospital where a skin graft was performed. After the surgery, the doctors recommended that Larry take violin lessons to strengthen his arm.
Larry's skills with a violin would be something that stayed with him for the rest of his life. As he grew older he became more focused on becoming a star. His violin skills became so impressive that he started to become more versatile with other instruments, becoming a gifted musician. His family recalled that he even made a homemade violin out of a cigar box and a broom handle. He played it single-string and in between his knees, like a cello.
During his teenage years, Larry started working on the stage and even as an amateur boxer. In 1921, he started to his stride on the stage, as a musical comedian. He joined Gus Edward's Newsboy Sextette, where he met Mabel Haney, who would become his girlfriend. Mabel let Larry join her act, along with her sister Loretta, and they became "The Haney Sisters and Fine."
The group lasted on vaudeville until 1925, in which Larry was approached by three men named Ted, Moe, and Shemp...
Known Pre-Stooge Films
Moe Howard appeared in the following shorts
We Must Do Our Best
(Short Subject)
Fish Hookey
(Short Subject)
Ted Healy appeared in the following shorts
Wise Guys Prefer Brunettes
(Short Subject)
In 1925, Ted and Moe were informed by Shemp that he was leaving the act. Moe suggested a performer he had recently seen named Larry Fine to replace him. The trio approached Fine and offered him $90 a week, with an extra $10 if he'd "throw away the fiddle." Larry eagerly agreed, and he joined the group while Shemp parted ways with the act.
Unfortunately, Shemp's first attempt at a solo career didn't work out as he had hoped, and he returned to the group not long afterward.
Happiness would come for the Stooges in 1925, though, as two of them were married to their lifelong partners. Moe married his bride, Helen Schonburger (who was a distant cousin of famed magician Harry Houdini), and Shemp to his fiancée Gertrude Frank. Larry would follow a year later with his long-time girlfriend Mabel Haney.
Moe's wife, however, didn't want Moe to be on the road with Healy their entire lives, and since she had recently became pregnant with their first child, Joan, he agreed to split with the team. In 1926, Moe parted ways with Ted Healy and his fellow Stooges (the only time in their careers that Moe would leave the group). Moe went on to work in real estate, but never got the hang of it. Afterwards, he attempted open his own retail store, which he was no better at. Moe eventually returned to stage, in a way, in 1927 when he started producing and directing plays for a Jewish Community House. It became clear that Moe belonged on the stage. Not long after, Moe returned to the group, after less than two years of absence.
Shemp, in the meantime, was hard at work giving Moe's daughter, Joan, a cousin. Shemp's own son Morton was born in 1927. Not to be outdone, Larry had a daughter of his own in 1929, Phyllis.
The stage act was a rousing success, and eventually caught the eye of the film studios. One studio, Fox Film Corporation, approached them with a film called
Soup to Nuts
, and promised Ted Healy the starring role...
1930
[/b][/center]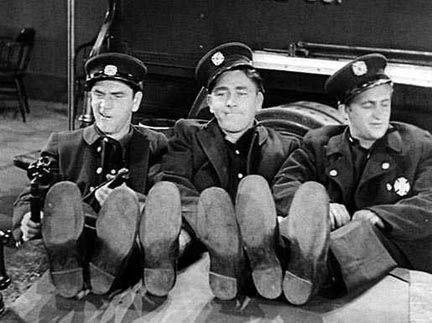 Soup to Nuts
Ted (Ted Healy) is a fireman dating Queenie (Francis McCoy), an employee of costume shop owner and crackpot inventor Otto Schmidt (Charles Winninger). Unfortunately, Schmidt is heading toward bankruptcy, just as his beautiful niece, Louise (Lucile Brown), comes into town. As Louise enters the shop, she flirts with a handsome creditor, Richard (Stanley Smith) who is there to kick her uncle out. Upon learning of her uncle's situation, she promptly rejects him.

In the meantime, Schmidt takes a job as a waiter at a restaurant and Ted tries to save the business by selling costumes for a fireman's costume party.

In an attempt to win the heart of Louise, Richard conspires with Ted to get her to dance with her at the costume party by disguising himself as Ted. Once Louise discovers who she is dancing with, she rushes back to the costume shop. Richard, chasing after her, accidentally sets the building on fire. The fire bells ring and Ted rides to the rescue with along with his four inept fellow firemen (The Three Stooges and Fred Sanborn). They rescue all those trapped within the building and Richard and Louise sort out their differences. Not only that, but Richard took out insurance on the building in Schmidt's name, saving him from Bankruptcy.
I wish I could say that the Stooges debut film is a laugh riot that breaths new life in the comic genre, but unfortunately
Soup to Nuts
is a strained, 70 minute comedy that is roughly 60 minutes too long. The film has no sense of movement and forces itself forward with no real sense of direction.
Ted Healy is far too aggressive in the film, making him an extremely unlikable leading man. Unlike Moe, who would take the leadership role of the Stooges overtime, he commands and threatens without any hint of a dimwitted, playful attitude. Charles Winninger, as Schmidt, does OK with his wacky role, but suffers in trying to sell some of the films more absurd moments, which it looks as if even he himself doesn't buy. A bright spot in the cast is Francis McCoy, who matches wits with Healy and does more than a fair job. I'd even go as far as to say she squeezed out more laughs than he did.
The Stooges, themselves, steal every scene they're in. With the weak material surrounding them, they rescue the entire production from drowning. The firefight finale alone is worthy of the best of their short subjects with Columbia. Unfortunately, they're also carrying the weight of Fred Sanborn, another vaudeville comedian who tagged along with Healy and the trio for the ride. Sanborn spends nearly all of his time grinning at the camera without doing anything. It's not funny. In fact, it's downright creepy.
Soup to Nuts
didn't go down in history as a classic. If it weren't the debut of such a popular comic team, it probably would have rotted in 20th Century Fox's vault till the end of time. It has its moments (most of which are a result of the Stooges), but this one is for super curious historians only.
Notes:
Soup to Nuts was written by Rube Goldberg, a then-popular cartoonist who specialized in drawings of complex devices that did simple everyday things. "Building a better mousetrap," if you will. Throughout the film, lots of gadgets are showcased, many of which are explained at the beginning. Goldberg has a cameo early on as himself, opening fan mail at a restaurant.

In this film, Moe is credited as "Harry Howard."

The fourth fireman alongside the Three Stooges is Fred Sanborn, who also appeared onstage with Ted Healy and the Three Stooges as "Ted Healy and his Southern Gentleman." Judging from his appearance in this film, Sanborn's character was a mute character with large eyebrows who would often mug at the audience. Like the Stooges eventually would, Sanborn left the act in order to concentrate on his career as a musician. However, he appeared off and on throughout the years, often as similar characters, until 1950.