Post by Ijon the Asano on Jun 3, 2013 19:31:07 GMT -5
While I was away, I made a card for my son's birthday. It was designed to be a little adventure book that he starred in. My wife doesn't like me to put up his picture, and while it's true I did used to use it as my avatar, she has a point. So, while I'm pleased enough with how it came out, I'm pixellating his face here. I'll translate the text with notes where helpful. So, without further ado:
Y and the Moon Master
It was x/x/2012. Terrible news came over the TV.
The Moon Master had stolen the birthdays of everyone on Earth and taken them to the Moon.
"Eh! Birthdays gone! Five years old was a lot of fun, but six looks even more fun. That's it! I must do something!"
Y gathered up some useful things.
He borrowed a space suit, but a rocket was nowhere to be found.
So he shook up some bottles of Coke and used them to fly to the Moon.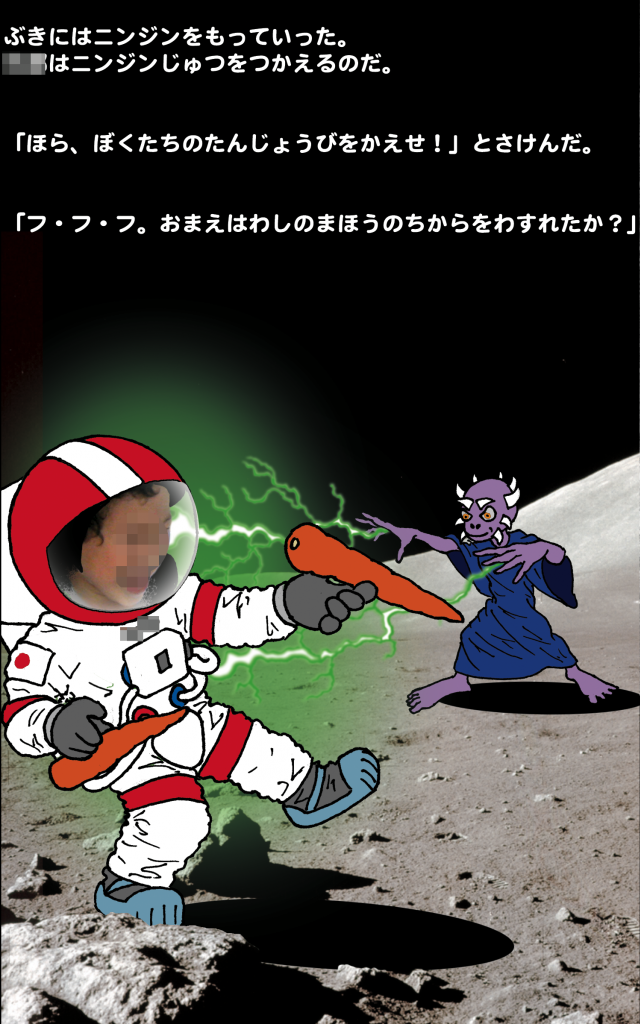 He brought carrots for weapons.
Y could do carrot-jutsu. (In Japanese "carrot" almost puns with "ninja")
"Hora! Give us back our birthdays!" he shouted.
"Heh, heh, heh. Have you forgotten my magical powers?"
Next thing he knew, Y found himself dangling over a snow cone machine.
"So, what flavour would you like to be?" asked the Moon Master.
"Strawberry? Melon? Perhaps even root beer?" (Japanese hate root beer)
Y thought fast. "Neh, may I ask a question? Why did you take everyone's birthdays?"
"Beacuse I was born lonng, lonng ago, before there were even calendars, so I have no birthday. Isn't that terribly unfair!"
[next page]
"Well, you can't have a party alone, you know," Y said.
"Neh, if you'll untie me I'll throw you a party. After that it's OK to make me into a snow cone, I s'pose."
The Moon Master untied Y and they had a party together.
Y gave the Moon Master a cake with 4.3 billion candles and sang "Happy Birthday."
Because there were so many candles, two puffs were needed to blow them all out.
Y also gave a present. It was a huge toy rabbit.
"This is just how I dreamed a party would be!" the Moon Master said.
"I'll give you back your own birthday. I'll give you a present too. What would you like? Anything is OK."
"Anything is OK . . . then give everyone's birthdays back."
"Eh!? You could have a motorboat, a popcorn machine, a dinosaur! Don't you want those? Anyway, if I do that, I'll be without a birthday again."
"I'll share my birthday with you. You can't cut a birthday in half, but if two people share it, enough for one becomes enough for two."
(This was incredibly tough to render in Japanese, starting with the original English, "A birthday is something that you don't lose when you share it." Lots of e-mail to my old boss before we hashed that together)
The Moon Master smiled and released all the birthdays. They drifted back to earth like multicolored soap bubbles.
"Well then, your own birthday party comes soon, back on Earth. You can use my electric catapult to get back quickly."
The electric catapult was like a slide, except that you didn't go down but up.
Y waved to the Moon Master. "Thank you!"
Y checked that his parachute was properly adjusted as he watched the magnificent Earth coming steadily nearer.
Yes, age five had been a lot of fun.
What new adventures would age six bring?
HAPPY BIRTHDAY!
It was a fun project, and especially with my old boss's help I quite like how it came out. My son hated it, but you can't have everything.