Post by Torgo on Jan 30, 2018 3:54:25 GMT -5
I group around with a bunch of sci-fi nerds. Myself and a group of friends get together every week to watch Star Trek: Discovery, though we're kind of bummed that it's ending in a few weeks. Since the gatherings have been fun, we kinda wanted to keep doing them regardless of whether Trek is on. I've been wanting to subject them to Westworld, but the problem is we have kids with us at these things and Westworld is...not a family show (although we have discussions on how family friendly Discovery can be at times).
The solution to our problem hits in March. Because last year a few of us became quite addicted to another sci-fi show that had just hit the air...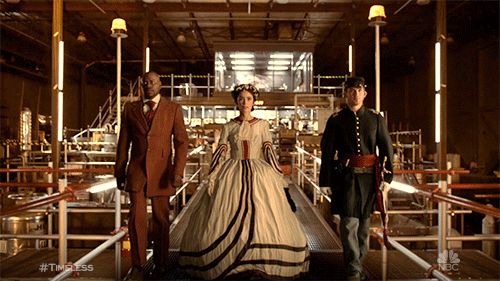 Timeless is not a perfect show by any means, as it's sometimes predictable and cliched. But there's one thing that makes it worth watching to me and everyone I watch it with, it's a throwback to those sci-fi shows of our youth. Shows that offered adventure of the week, often slightly building to something bigger that usually came into play at the end of season. Shows like Quantum Leap, The X-Files, Sliders, Buffy, Angel, and so and so. None of that serialized "watch all episodes or you'll be lost" crap.
It's not a huge surprise that Timeless never really hit it huge, because it is so old fashioned that I doubt it holds a lot of appeal in this age where each episode of a TV show needs to be a portion of one story because BINGE WATCH. Though if you were to ask me I was always more likely to binge watch shows like Timeless because of the diversity of each episode. A lot of people ask me why I haven't watched Stranger Things or other hot Netflix shows on the market, and that's because for the most part watching their programming grows monotonous to me, especially halfway through, because their mid-season episodes feel like their dragging their feet.
And of course it bore the mark of all great sci-fi shows...Timeless was cancelled. But somehow it defied that and rose from the dead, when mere days later the cancellation decision was reversed. This was awesome because it almost felt like Lucy, Wyatt, and Rufus went back in time to fix the timeline and made this happen.
Timeless is about a historian, a soldier, and a scientist hired by the government to track down a group of temporal terrorists who highjacked a time machine and intend to alter history in an attempt to wipe out an Illuminati-like organization called Rittenhouse, and in doing so might change the timeline entirely. They find themselves conflicted with their desire to preserve history yet discovering Rittenhouse might be more diabolical than those they're chasing.
But more importantly, it's a show made by nerds for nerds, as evidenced by the fun nostalgia drops at most every turn...
Like what you may ask? Well, just take a look at our main characters: Lucy Preston, Wyatt Logan, and Rufus Carlin.
Wait...read those names again...Preston, Logan, Rufus, and Carlin? As in Bill Preston, Theodore Logan, and Rufus played by George Carlin? Of all the time traveling homages you could have made you chose Bill and Ted's Excellent Adventure? That is TOTALLY BODACIOUS!
I'm rewatching the entire first season in preparation for the second season in March. I'm not holding my breath for a third, so I'm going to savor these ten episodes while the last. Right now I'm hopping into the Lifeboat and revisiting the past in the first sixteen episodes that captured my heart a year ago.
Pilot
Destination Date: May 6th, 1937
The pilot episode of Timeless tries to accomplish a lot, almost feeling like it should be double length. The show needs to introduce us to the concept of time travel, how it exists, our villain and his objectives, three main characters, give us characterizations for them to try and hook us, all the while juggling a story around the Hindenburg disaster. It's not successful at everything, but it's fast-paced, interesting, and exciting.
The bad guy of our show is Garcia Flynn, an NSA agent who raids a government facility with a group of followers and highjacks a time machine called the Mothership, and kidnapping the head scientist behind the team who invented it, Anthony Bruhl. In an attempt to stop Flynn and retrieve the Mothership, the government reaches out to a college professor named Lucy Preston to guide Wyatt Logan, a soldier, successfully through 1937 America to find Flynn and "take care of him." Tagging along is Rufus Carlin, a scientist familiar with the time technology who can successfully pilot and repair it. The trio take a prototype machine called the Lifeboat and follow Flynn to the Hindenburg disaster.
The rushed pace of the episode sometimes does it no favors. Our introduction to Lucy is pretty weak, as she relates a story to her classroom that feels a bit isolated with no possible context that really makes sense. It does get her profession across to the viewer and we instantly have an idea of who she is however, even if it is a bit dodgy. Wyatt's status as a widower seems to rear it's head at a somewhat convenient exposition times, which is a bit maddening from a storytelling perspective. It might have been more interesting to linger the viewer a bit with him and have the death of his wife be revealed a few episodes later than to cram it into this busy episode. But perhaps it's important to note that he's single, because it helps plant the seeds for the shippers and make Lucy and Wyatt the show's "Will they, or won't they?" couple. I will give the show credit in that they somehow turned this into a love triangle with Wyatt's deceased wife, because of Wyatt's determination to bring her back via screwing around with the timeline.
While the show's attempts to give us an idea about these characters stumbles a tad, their introduction to Rufus is a bit more successful. When discovering he is going on the mission as well he gives us the hilarious on-the-nose observation of "I am
black.
There is literally no point in American history that'll be awesome for me." This pays off later in the episode where he is hassled by a guard in jail and he rants about all the famous black men that eventually pop up in history: "I hope you get to see Michael Jordan dunk, Michael Jackson dance, Mike Tyson punch...just any black guy named Michael!" Rufus is also given a romance of his own with a programmer named Jiya, paving the way for an adorkable relationship later on. The seed is planted here, though it doesn't bloom for a while.
When it comes to plotting, the episode is genuinely kinetic. It never stops moving. We're thrust into Flynn stealing the Mothership almost immediately, then we are given a brief intro to Lucy and her family life before sucking her into the storyline so fast it'll make her head spin. Wyatt is already there and waiting, though he was obviously not ready for it either since he is hungover (a hint at his depression). They're given little to no time before being thrust into the Lifeboat. After that is mingling with people of the time in a search for Flynn before going all-out action for the second half.
But the episode is at its most interesting at this point as well. But most of the best moments of the episode are spoilers. Read at your own risk.
What started to get me really intrigued about this show was the point in which Flynn had prevented the Hindenburg from exploding. I loved this moment for two reasons. One, it makes us even more curious about what exactly Flynn is doing. They had just chased a man through time who just rescued dozens of people who were destined to die. And yet, even saving these people could damage the timeline as well. There's a interesting conundrum here. And the second is that it shows that the show isn't always just going to hit the reset button and have history be exactly as it was when their mission is over. It's a ballsy move to alter history so significantly in just the first episode of the series. It gets me to wonder just what else they might do down the line.

Incidentally, should the show ever make a series finale, I halfway expect somehow a reset of the timeline is probably what they're building toward. But for now I'm enjoying the paradoxes.

Following this point the action sequences are fun and exciting. Lucy, Wyatt, and Rufus are arrested, leading to a fun escape involving Rufus's above mentioned rant and Lucy's bra. The Hindenburg still explodes, but not until after it takes off again because Flynn was targeting people who were meant to board the ship.
Rittenhouse is namedropped, though we know very little about it other than the word. Rufus is revealed to be spying on Lucy and Wyatt, but the reason why is not yet revealed, though it's obviously against his will. When all is said and done everybody returns home and tries to live their daily lives as if nothing happened: Wyatt goes back to boozing, Rufus asks Jiya out on a date, and Lucy returns home to her ill mother to discover the timeline ripple somehow cured her mother. But all is not sunshine and roses for Lucy accidentally erased her little sister from history. This is one of those WTF moments that make me just go "Oh man, I GOTTA watch the next episode now."
The episode ends with Lucy receiving a phone call stating that Flynn has taken the Mothership out through time again. In one of those deliciously cheesy moments that I unapologetically love, Lucy does a dramatic pause as the camera zooms in on her face and she asks "When?" like she's ready to hop back into action.
It's a bumpy ride getting there, but the pilot episode gets its job done and is wildly entertaining to boot. If you're looking for a sci-fi adventure show to get into, I say put it on and see if you dig it.