Post by TomServo69 on Jan 15, 2009 21:27:48 GMT -5
I decided to start a new thread devoted solely to us comic book readers and collectors as I myself am quite the avid collector. I figure since we have a whole thread devoted to comic book movies, well, we need a comic book thread. So, use this thread to discuss what you're reading now, what you think about it, what some of your favorite all-time books/storylines are, what some of your favorite character appearances are in particular (not characters though! Make a thread for a particular character if you want) etc. etc. etc. Well, I'll start off!
Right now I'm reading the whole Final Crisis deal that DC has going on and all the tie-in's included with such. Very well written in comparison to the substandard (in my opinion) Crisis On Infinite Earths and Infinite Crisis storylines. Also, the Batman R.I.P. storyline that's wrapping up right now is very good and has lots of twists and turns that keep the reader intrigued the whole way. In all reality, I'm really starting to turn into more of a DC fan than a Marvel fan which is surprising considering I grew up an adamant Marvel fan, but, in light of some of the recent Marvel storyline choices (Secret Invasion, Brand New Day) I am flocking to the DC stories as they seem to be having a deeper impact on the landscape of their respective comic universe than the Marvel storylines.
As far as some collectibles I've picked up recently, well, I just got these in the mail today.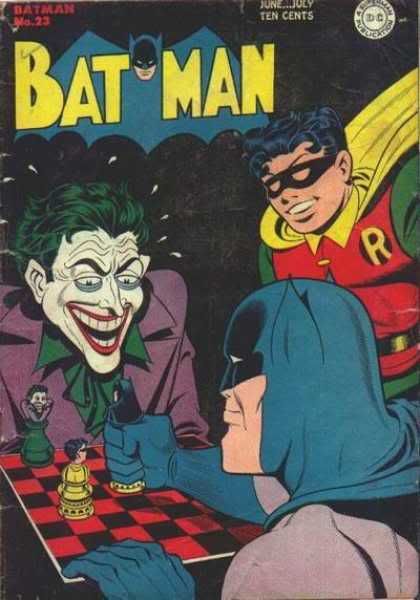 An awesome copy of Batman #23 with a black cover featuring the Joker prominently. If any of you collect any older books then you know how hard it is to find mostly black covers in good shape due to the poor quality of paper used back during this time which, this particular issue is from June-July 1944, right in the middle of WWII.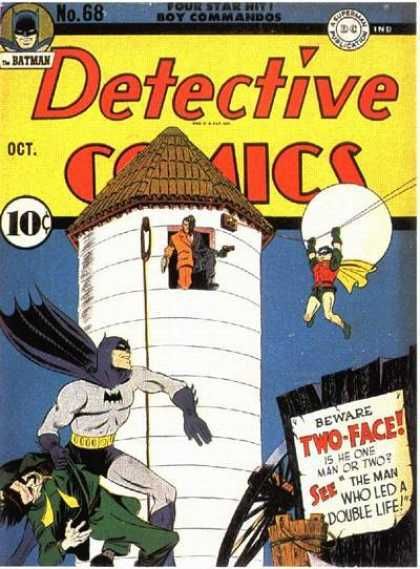 Secondly, this issue, Detective Comics #68, the first ever cover appearance of the now well-known Batman villain Two-Face, and his second appearance overall. One interesting thing about the three Golden Age appearances of Two-Face (Detective #66, this issue and Detective #80) are that Two-Face's real name wasn't Harvey Dent then, it was Harvey Kent and was changed when the real Two-Face reemerged in the Silver Age in Batman #234 to the more widely known Harvey Dent. This issue is from October 1942. See, you learned something by reading this

Well, that's all for now. I'm looking forward to discussing some of you guys comic interests with you and answering any questions you guys may have about anything comic related as I consider myself somewhat of a comic guru. Also, if anyone is looking for any comics in particular, seeing as how I purchase things like I just showed above, I have a lot of contacts in the comic selling world and can get great deals on almost anything, so, if there's something you've wanted for a while but cringed at the prices around, let me know and I'm sure I can find you a deal on it.
Til next time, thanks for visiting Servo's Comic Corner!
Servo