Post by starschwar on Feb 3, 2016 0:59:18 GMT -5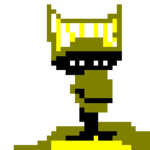 The Kickstarter videos look like they were shot at 24 frames per second, the same frame rate as film, but the original show was shot on video at 60i which gave it a relative appearance of 60fps. While most streaming videos can't really do actual 60fps (though Youtube recently began allowing 60fps video) they could still do 30fps which would give it that smoother "high-motion" video look, and that frame rate's more widely supported.
I'm really hoping they'll at least shoot at 30fps. 24fps may be a popular standard frame rate for film and video, but I fear that if they shot at 24fps, it might look a little too "professional" and the signature cheap look of the show might be lost somewhat.
Also I'm not sure it would happen, but for that extra 14th episode, what if they riffed on an old 3D film? Not sure how much more expensive it would be, but I think it would be really fun to have an episode where you get to put on those red-and-blue anaglyph glasses and see them riff a cheesy 3D movie. Maybe they could even shoot the host segments in 3D and throw stuff at the camera!
I'm also a proponent of them using 1080i/30 (60 distinct interlaced fields per second). It's subtle as can be, but it does add to the immersion. You aren't watching a movie - you're watching people (robots are people,too !) watch a movie. That said, MST3K: The Movie was shot on film, at the standard 23.976 frames per second and that didn't hurt it at all. If that's the standard for the new show, it isn't problematic. Well, unless they riff any material that was shot on video or digital with a higher frame/field rate - made for TV stuff, in other words. They'd have to drop or blend fields or frames, and that wouldn't look great. I'm against using any other frame rate. 30 progressive frames per second would remove the standard 3:2 pulldown pattern for film material, leading to some extra unnatural jerkiness for theater segments. And all that jerking around might cause a flame-out.
Neither here nor there, but I had the most vivid dream about the first new episode last night. I won't let this devolve into my subconscious's fan-fiction, but there was one moment in particular that amused me. Cambot, Crow, Servo, and Gypsy are stranded on the new SOL. Following in Joel's footsteps, they decide to create someone to help them through the pain of the new experiments. They
make
Jonah, with
science
.
He is the ultimate invention exchange.